By: Daniel Evon / Photographs Courtesy of Bentley
The Bentley has always been a luxury classic, and now the company's added an extra twist and modern flare with the new Continental GT. This open-topped convertible features the enhancements that made Bentleys famous, with the exhilaration of driving with the top down. The car's new design includes pronounced fenders, a stylized front bumper, and slip style rear spoiler, combining in a way that makes the Continental GT look assertive and ready to race. From the purr of its engine to its ability to handle high speed corners, this award-winning Bentley is a car lover's dream, designed for those who want to be extraordinary.
Like its exterior, the Bentley Continental GT's interior is a beautiful blend of luxury and class. Filled with Burr walnut veneer, chrome, and hide, the car has a feeling of home, comfort, and refinement that only Bentley can pull off. Its redesigned 3-spoke steering wheel blends tradition and modern style, while giving the driver more control and better handling. The straight flute upholstery is soft and smooth, with ample seating and space for four. With 17 different colors of leather interior to choose from, Bentley offers features and luxuries that make it the best.
The Continental GT has a 4.0 liter engine and is available in four versions: the V8, V8S, standard, and the W12. The twin turbo engine and new variable displacement system leads to lower emissions with a stronger output of power. The Continental GT features an air spring suspension and continuous damping control system, merging its touring suspension with an automatic electronic height adjustment. The redesigned steering column and paddle gear shift give the driver an assured grip that's comfortable and controlled, with increased responsiveness. With options like tinted rear and front lamps, there's nothing Bentley didn't consider when it came to Continental GT.
The new Bentley Continental GT has increased storage, supplying enough room to haul what's needed without excess bulkiness. Optional features take it beyond the ordinary with luxuries like massaging seats, Naim audio systems, and adaptive cruise control that automatically modifies the vehicles speed to keep a safe distance from other traffic. Yet, the Continental GT's allure goes beyond its bells and whistles and is found in its performance. This Bentley goes from 0 to 60 in 4.3 seconds and reaches maximum speeds of 192 mph. It's powerful and strong, and handles the sharpest of curves and bends with agility and ferociousness.
The new Bentley Continental GT gives its drivers the performance of a sports car with luxury accommodations. No matter if it's cruising around the Alpine Extraordinary Drive across Europe or speeding through laps in a luxury car race, the Continental GT is bound to please even the pickiest of drivers. It looks beautiful. Its performance is outstanding. And it's got power beyond belief. That's why it was voted the Best of the Best in convertible class by Robb Report and the 2015 Luxury Car of the Year by Digital Trends. Drive a Bentley Continental GT and be extraordinary.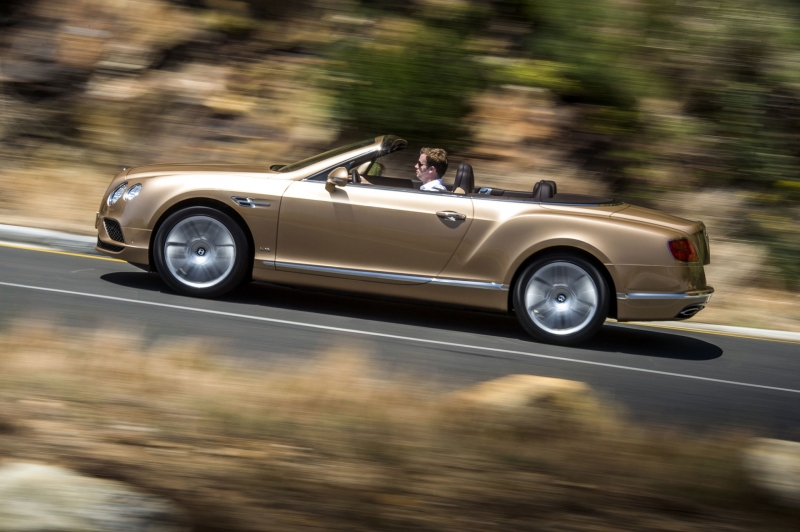 Watch Video: Experience The New Bentley Continental GT Convertible
Let's Get Social...Share this Article with a Friend