By: Daniel Evon / Photographs Courtesy of Casamigos
George Clooney, Rande Gerber, and Mike Meldman, the three amigos, really love drinking tequila, so it was a natural for these longtime friends to develop their very own house brand. Whether it's on the rocks or by the shot and yes, sometimes straight from the bottle, Casamigos has defied the odds. Tequila-filled nights ultimately became the catalyst for the birth of the Casamigos juggernaut. "Our idea was to make the smoothest and best-tasting tequila which didn't need an overabundance of salt or lime," said Clooney and Gerber. While building two homes next to each other in Baja, Mexico, Rande and George bounced around the idea of creating an extraordinary product for themselves and friends as well. With the help of a master distiller in Mexico, Casamigos has emerged as a major tequila brand and can now be enjoyed coast to coast.
After years of blind taste testing, the master distiller finally hit the mark. Casamigos is only made in small batches to guarantee premium results and made only from the finest, handpicked and selected Blue Weber agaves found only in the Highland of Jalisco, Mexico. Originally made to be shared with family and friends Casamigos is now sold around the world and is available online. The Companies tagline "Brought to you by those who drink it" is truly award-winning, best-tasting and smoothest tequila that should be shared and enjoyed. Casamigos comes in three varieties; Casamigos Blanco, Casamigos Reposado, and Casamigos Anejo.
Jet-setting couples George and Amal Clooney with Rande Gerber, Cindy Crawford and fashion photographer Mario Testino at the Casamigos, August 2015 launch in Spain. The event took place at the Ushuaia Beach Hotel on the Island of Ibiza in the Mediterranean Sea and well-known for the lively nightlife scene, the perfect place to showcase and launch their new Tequila brand during this private event. The venue was attended by 120 of Ibiza's mover and shakers who all enjoyed the spirit of the evening. Guest dined on mouth-watering canapes and tapas prepared by the hotel's Head Chef, dancers and acrobats wowed the crowd as firebreathers provided mesmerizing entertainment. Rande and George mingled with the beautiful people while Cindy and Amal were ensconced as Royalty while the Spanish sun set over the mountains. The festivities of this magical evening were enhanced by Casamigos Reposado and a full house of friends.
Casamigo, meaning "House of Friends" marketing campaign went viral when Clooney & Gerber shot a YouTube video of a faux pas after an evening of drinking a bottle of their Reposado; be sure to watch this original video. Social Media also exploded when they gave a case to a well-known fashion photographer Jason Lee Perry and told them to share with some friends and post it on Social Media. Europe's first case of Casamigos was personally delivered by Clooney & Gerber, who traveled around the world launching their tequila into different markets. Here, George and Rande deliver their tequila brand to Venice's Belmond Hotel Cipriani, which is a global collection of 46 iconic hotels, including the Venice Simplon-Orient-Express. The most luxurious restaurants and hotels around the world are now serving Casamigos.
Rande and his wife Cindy Crawford in Venice for George and Amal's wedding in 2014. Rande and George have not only perfected a lifestyle but, after two years of development, an award winning Tequila. Along with partner Michael Meldman, George and Rande have fashioned the most successful and fastest growing premium tequila brand in the country. The grassroots popularity and phenomenon of Casamigos is a testament to Capitalism and the free enterprise system. "We are extremely proud of Casamigos Tequila's success and are very happy people enjoy drinking Casamigos as much as we do," say Casamigos owners George Clooney, Rande Gerber, and Michael Meldman.
Casamigos Perfect Margarita:1 1/2 Parts Casamigos Blanco Tequila; 3/4 Part Fresh Lime Juice; 1/4 Part Fresh Orange Juice; 1/3 Part Agave Nectar; 1/3 Part Orange Liqueur - Combine all ingredients to iced mixing glass. Shake vigorously for 10 count. Pour all contents into a rocks glass with or without salted rim. Garnish with lime.
Casamigos Paloma: 1 1/2 Parts Casamigos Reposado Tequila; 3/4 Part Fresh Grapefruit Juice; 1/3 Part Fresh Lime Juice; 1/4 Part Agave Nectar; Splash with Grapefruit Soda - Shake in a shaker and pour over ice.
Prickly Pear Margarita: 1 1/2 Parts Casamigos Blanco Tequila; 1 Part Fresh Lime Juice; 1/2 Part Orange Liqueur; 1/2 Part Prickly Pear Puree; 1/2 Part Agave Nectar - Combine all ingredients to iced mixing glass. Shake vigorously for 10 count - Pour all contents into a rocks glass with or without salted rim. Garnish with lime.
Jasmine Margarita: 1 1/2 Parts Casamigos Blanco Tequila; 1/2 Part Fresh Lime Juice; 1/2 Part Fresh Lemon Juice; 1/2 Part Simple Syrup; 1/2 Part Pom Concentrate - Combine all ingredients in a cocktail shaker filled partway with ice, then shake. Strain into a rocks glass that is half rimmed with Sal de Gusano and crushed ice. Garnish with Sal de Gusano half rim and 4 or 5 pomegranate seeds.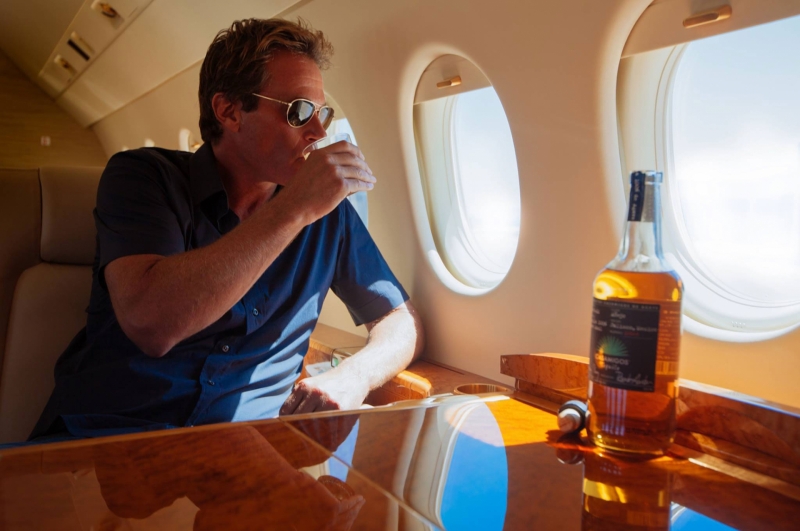 Watch Video: Casamigos Tequila
Let's Get Social...Share this Article with a Friend