By: Cindy Ferranio / Photographs Courtesy of Banyan Tree
The glorious DoublePool Villas by Banyan Tree is an oasis of luxury located on Thailand's largest island of Phuket. This 5-star rated phenom is just steps away from the Bang Tao Beach with it's breathtaking view of the Andaman Sea. There is also a beautiful tropical garden that was designed to feature indigenous plants species that are lush and exotic. You can heighten your senses with a peaceful day at the spa or an inviting swim in any one of the villa pools. For the avid golfer, the glorious Double Pool Villas are close to the prestigious Laguna Phuket Golf Club while serious divers and beach lovers can submerge themselves in the clear waters around this incredible resort.
Banyan Tree features a two bedroom and pool villa that is designed to offer a luxurious stay with all of the comforts of home. You can take in dramatic views of the tropical garden through floor to ceiling windows while enjoying the soothing sounds of the private, outdoor jet pool enticing you to indulge in an early morning or a late night dip. Between the beautifully appointed bedrooms to the scenic views, DoublePool Villas by Banyan Tree is perfect for a family vacation or a get-away for romantic couples.
All the villas at Banyan Tree create an atmosphere to relax and unwind in beautifully designed living rooms and bedrooms while indulging in all of the enticing amenities. Each room of the villa has been decorated by renowned interior designers with the flair and style of the native surroundings of this beautiful island. A private patio off the bedroom is the perfect place to inhale the sweet aroma of the flowers from the tropical garden and five-star amenities at this luxurious oasis will enhance your visit to Thailand. The kitchen area of the villa is the spot to whip up tasty appetizers or frozen cocktails to enjoy on the private patio or lounging by the pool. Banyan Tree has a state-of-the-art business center and 24-hour security for the safety of all their guests.
All of the Villas have astonishing views and lush surroundings, space where one can relax, reflect and enjoy a sense of peace while viewing soothing waters of the private, wading pool. The bedrooms have king size beds that are truly comfortable and a perfect place for repose and sweet sleep. The architectural design and elements are a perfect balance of nature, and beauty while features an impressive soaking tub and a separate shower where you can indulge in the gentle streams of water flowing from the rainfall showerheads.
Outstanding service is paramount, and your stay will be a most enjoyable experience. The entire hotel staff is there at a moment's notice to ensure that your holiday is comfortable and memorable. Health conscious guests can experience new adventures by getting their "Zen-On" with a yoga class or preparing in a cooking class. The Grand Lagoon is a great place to lounge by the pool while the beach area features a bar service and entertainment. If you are looking for a great meal, there are outstanding on-site restaurants as well as 24/7 delivery service right to your door. Complimentary shuttle service from the hotel can whisk you into town to experience the taste and sounds of Phuket.
The glorious DoublePool Villas by Banyan Tree caters to anyone in search of the ultimate getaway. Imagine falling asleep in luxurious textiles while listening to the trickling sounds of your private water. You'll enjoy the unforgettable taste of delicious Asian meals, walking along the sandy shoreline of Bang Tao Beach to nourish and satisfy your soul. Taking a shower in a luxurious Thai bathroom or emerging yourself in a large soaker tub. Indulging in a massage to melt your stress away. Your visit to Banyan Tree in Phuket will be a memorable experience that will last a lifetime.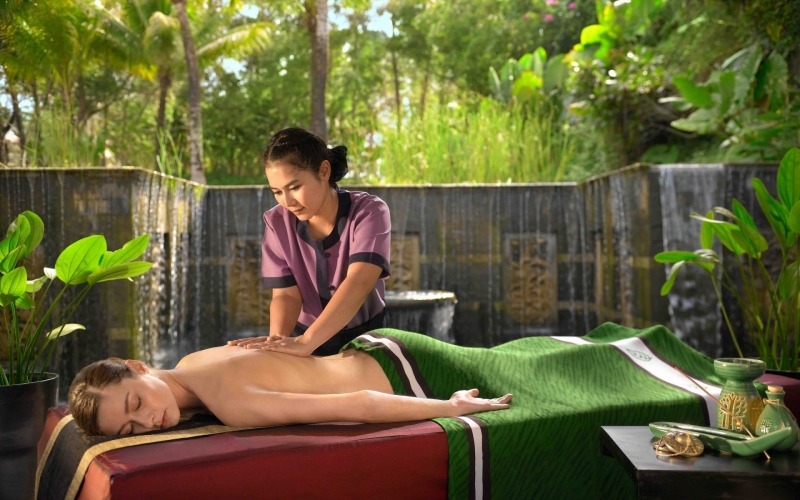 Watch Video: Banyan Tree Spa Sanctuary
Let's Get Social...Share this Article with a Friend