By: Jeffrey Steele / Photographs Courtesy of Oktoberfest
No other event in the world presents merrymakers with the heaping helpings of food, frivolity, and frothy brews served up each autumn by Germany's Oktoberfest. This 16-day celebration of hops and hoopla has been staged annually in Munich's sprawling Theresienwiese for more than 180 years. Straddling September and October, the beer blast lures millions of revelers annually from countries worldwide. Donning Lederhosen and Dirndl Skirts, they're swept up in a swirl of color and conviviality, as they savor sauerkraut, sausages and sudsy steins of beer. And what beer it is. To be served at Oktoberfest, all brews must adhere to Reinheitsgebot, the German Beer Purity Law, and be brewed within Munich city limits. The eagerly-attended opening ceremonies last September 16th featured Munich's mayor tapping the first keg of Oktoberfest beer, then inviting all the other fest-goers to savor the free-flowing liquid assets.
Oktoberfest is more than a crowd-pleasing opportunity to cut loose. It's also a national treasure celebrating time-honored German traditions. An example is the Oktoberfest Costume and Rifleman's Parade, held the fest's first Sunday. Some 65 percent of visitors from outside Munich book rooms in the cities hotels and youth hostels. Approximately 6.9 million liters of beer are sold at average prices of 10 euros, enormously profiting local breweries. The festival employs more than 8,000 people on a permanent basis, with another 5,000 positions added just for the season. In recent years, Munich officials have stepped up efforts to help ensure the fest remains a safe and secure event. Backpacks and other large totes were banned for the 2017 festival, a 350-meter fence surrounding the perimeter grounds was erected and additional stewards hired to alleviate any sense of public concern.
The traditional Bavarian dress is a common sight at Oktoberfest, and it's not unusual for the most authentically attired attendees to be those visiting from outside Germany. Tight Dirndl Dresses with aprons are apropos for women, and so are blouses cut to show varying levels of decolletage. Dirndl bows on aprons go on the left for single women, on the right for "taken" women and in the middle for virgins. For men, a white or checked button-down shirt, leather Lederhosen shorts and Alpine hat works well. Few visitors leave Oktoberfest without souvenirs. Official Oktoberfest beer mugs with logos that change yearly are among the most traditional Oktoberfest keepsakes. Actually buying souvenirs is urged as some 100,000 "lifted mugs" have been confiscated from light-fingered folks at the festival exists.
Munich's finest beers are best accompanied by scrumptious food, and on this score Oktoberfest has few rivals. Only the brews boast more abundant variety than the tasty selection of traditional German delicacies available in the food tents. Wiesn Hendl, a grilled chicken, typically served with a side order of French fries; Kasespatzle, a German onion-topped macaroni and cheese; and Weisswurst, Bavarian sausages with sauerkraut and mustard, are available in food tents, as is landjager, a dried sausage with pretzels. Other Oktoberfest food specialties tend to be served outside the tents, among them Currywurst, a German variation on the traditional American hot dog with ketchup and curry powder. One visitor decided the tastiest item was a sandwich crafted from slices of mouth-watering, freshly-sliced ham layered inside a hearty German roll. For dessert, treat yourself to vanilla bean custard with German sour cherry sauce.
In recent years, there has been no reason to discontinue immersing yourself in Oktoberfest revelry when you leave the festival. That's because Lufthansa has instituted special "Trachten Team Flights" from Munich to a variety of both European and world capitals throughout the festival. Trachten Flights go out to Beijing, Lyon, Copenhagen, Zagreb, Bremen, Sao Paulo, Mexico City and Geneva. During the period of Trachten Flights, Munich customer service staff, long-haul flight attendants, and Lufthansa CityLine flight attendants will all be garbed in Dirndl skirts, traditional blouses and apron bows, and will bring a unique brand of Oktoberfest flair to the flights. Those first-class passengers who are transiting Munich are invited to take away one additional bit of Oktoberfest charm. They can stop by the first-class lounge to claim a one-of-a-kind Oktoberfest painted duck dressed in traditional garb. Don't miss Oktoberfest 2018...Saturday, September 22nd to Sunday, October 7th.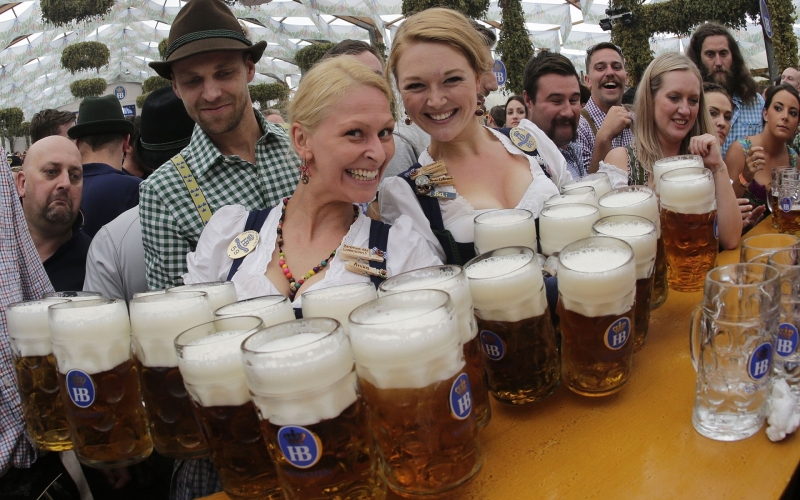 Watch Video: Munich Oktoberfest...16 Days of Hops, Hoopla and Frivolity
Let's Get Social...Share this Article with a Friend