By: Daniel Evon / Photographs Courtesy of Officine Gullo
Some would argue that today's homes are only as luxurious as the kitchens they contain. With the Cucina being the entertaining hub of the home, this space should be a considered a staging point and personify the home in general. Officine Gullo, one of the world's leading artisans in period style kitchens, takes the concept of luxury design to entirely new heights. Based in Florence, Italy, and the birthplace of the Renaissance, home to the Medici and countless artistic masters. The craftsman at Officine Gullo carefully design traditional handcraft Italian kitchens, including cabinetry, appliances, ranges, and accessories.
Hailing from the land of cultural enlightenment, it is clear that this mindset is still alive and well, as there is something quite extraordinary about these timeless masterworks. From the start, it's been the intention of Officine Gullo to meticulously handcraft finely-tuned "cooking machines" to be very different than anything else on the market today. After all, it's this uniqueness that has made this company the premier craftsman in Florence. These highly coveted metal kitchens are inspired by vintage Tuscan models of the 18th and 19th centuries. Throughout history, Italians were dedicated to superior quality and a distinct style that carries on today in the way that Officine Gullo approaches artistry. Being a third-generation business with nearly 90 years of experience they are proud to continue creating masterful kitchens with the good life in mind.
Italian period design with 21st-century practicality come to mind when you see and think about these brilliant works of art. Customization is everything when it comes to creating the ideal kitchen for their customers all over the world. For this reason, they are dedicated to working closely with their clients to manufacture kitchens that are not only beautiful but functional. Furthermore, they are committed to ensuring that each customer is exceedingly happy with the final product. All orders are custom made to specifications which can be seen in the fine details of every kitchen. Officine Gullo believes that nobility and commitment lie at the heart of life, and it is this mantra that is integrated into every aspect of their business. It is their sincere hope that each commitment is a tour de force that will bring a rich tradition of family gatherings.
Without equivocation, there are so many things about this company that makes them the jewel of Tuscany. Their approach to creating amazing cooking machines...for example, much attention is given to a range's "engine," quickly producing up to 34,200 BTUs...just as Italian automaker Ferrari excels at producing 660 horsepower. These exquisite machines are just as attractive as they are utilitarian, and they can be completely customized to offer unique features such as polished griddles, pasta cookers, deep fryers, and much more. The company believes that an essential part of the cooking journey is to be inspired by your immediate surroundings. Your dream of having a true Tuscan kitchen can become a reality with Officine Gullo, where beauty and quality lead to epicurean bliss.
If you're feeling inspired, you can learn more about this fantastic company by visiting one of the two U.S. based showrooms in New York City and Miami. A third showroom in the United States will soon be added to the Los Angeles area. Another way to experience the incredible uniqueness and rich Florentine heritage that Officine Gullo brings to its signature metalwork kitchens...is to take a virtual tour of showrooms from around the world. Once you familiarize yourself with these Italian kitchens, it will be inherently evident that this luxury lifestyle brand embodies the core of La Dolce Vita, family, great cooking and dining and the heart of a well-lived life. Bellissimo!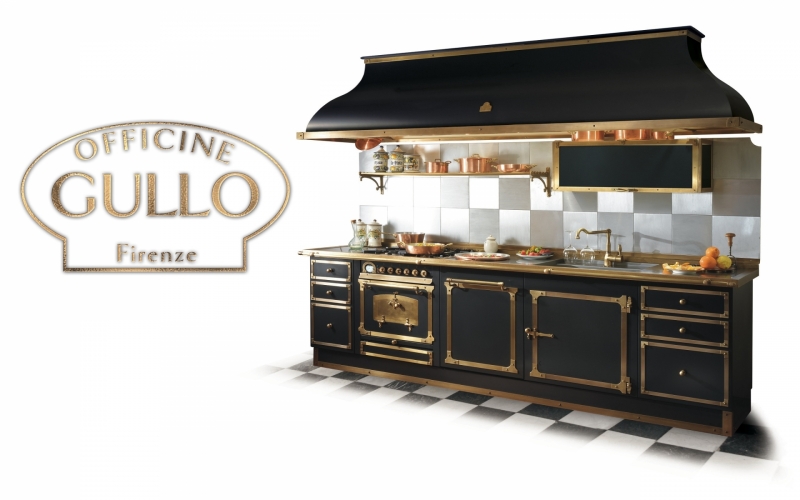 Watch Video: Officine Gullo, Traditional Handcrafted Kitchens From Italy
Let's Get Social...Share this Article with a Friend