By: Susannah Cord
In a life characterized by an aptitude for the art of reinvention, Oliver Messel, one of the 20th century's legendary theatrical designers, would regularly reinvent not only himself but fashion and décor, the use of everyday items and the application of age-old ideas. While born into a family of successful and creative bankers, Messel's interests ran towards the arts from an early age, experimenting in all manner of mediums, from drawing and painting to fabrics, wax and papier mâché. His fifty-year-long career, launched in 1925 with a mask collection created during his student years at Slade School of Art, would traverse a broad field of artistic endeavors, from theatrical stage design to film sets and on into the world of interior design and architecture. At each stage, he would prove a master of an eccentric romanticism, defying reality to create a vision of delicate whimsy and elegance.
Privately, Oliver Messel was a known homosexual who ran in the circles of an elite crowd. Along with fellow Bon-Vivants, Cecil Beaton, Peter Watson and British composer Gerald Berners, Messel made quite a stir in the 1930's when Berners published a Roman à clef under the pseudonym "Adela Quebec." The book, titled "The Girls of Radcliff Hall," appeared a satire about a lesbian girls school, when in truth the fictitious names and gender that the novel represented were a façade of fiction, in fact depicting Berners and his circle of friends under the guise of a salacious distraction. The indiscretions alluded to in the novel were profoundly provocative and created an uproar among Berners' intimates and acquaintances, making the entire affair highly controversial. Cecil Beaton actively sought to have all copies destroyed, the novel subsequently disappearing from circulation, making the edition extremely rare until its reprint in 2000.
Infamy did not inhibit Messel's career which had been developing since his 1925 mask exhibit. The exhibition led to his first job, creating masks for a Sergei Diaghelev ballet, Zephyre et Flore, after which Messel experienced a steady stream of work in theatre for all manner of productions. Musical revues, operas, plays, and ballets all led to a wide range of opportunities to experiment with set design, costumes, and props, revealing a talent for exquisite detail and design, in turn reflecting a passion for historical research and a vast knowledge of the fields of art. By the time of his retirement, Messel had worked with every theatre director of note known to his contemporaries, becoming famous for his perfectionism and ability to work with whichever material was at hand. He knew how to make any prop and create all illusions, and fabric of all kinds performed flawlessly with his cut.
By 1932, the theatrical production, The Miracle, caught the eye of film director, Alexander Korda, launching Messel's career in a new direction with his first foray into film sets on Korda's The Private Life of Don Juan. Messel's passion for research came to the fore then, with films like Romeo and Juliet, movies requiring extensive inquiry into the era of the script. Possessing an innate understanding that theatre and movies needed a team effort, Messel was known for his sensitivity to the artistic requirements for furthering the story and creating an atmosphere conducive to the telling of the tale. With his stylized interpretation of fashion and lifestyle, his designs brought a twist to historical fact, promoting an often fanciful feel to the production. But after receiving an Oscar nomination for Suddenly Last Summer, Messel moved on once again when his trademark qualities went out of style.
After a lifetime of theatrical artifice and peer adoration, Messel found the 1950's had become bored with fairytales and craved realism, an interest he could not embrace, seeking as he did to "…make as much magic as possible." By the 1960's, afflicted with arthritis, Messel sought refuge on the Caribbean island of Barbados, in the process finding a new career. Purchasing and remodeling a modest home, he became in high demand with the winter jet set and British Royalty who fell in love with his talent for interior design and architecture. Until his death in 1978, Messel redecorated and designed dozens of homes on Barbados and Mustique, leaving a legacy of comfort with whimsical elegance. Messel's favorite accomplishment, the exquisitely situated plantation home, Fustic House, remains awash in his signature style and is for rent year round for those who want to experience Colonial Barbados and the legendary theatrical design of Oliver Messel.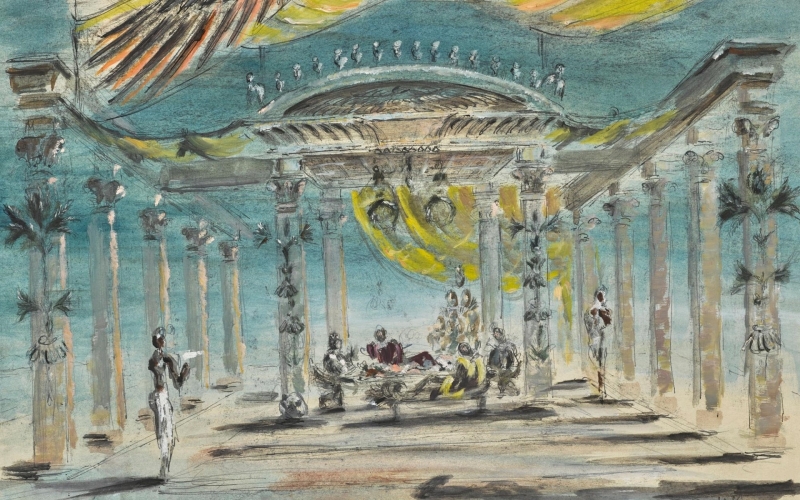 Watch Video: Oliver Messel...One of the 20th Century's Legendary Theatrical Designers
Let's Get Social...Share this Article with a Friend