By: Sarah Louise Klose / Photographs Courtesy of Dethleffs
For those who wish to explore Europe and the United Kingdom, the Motorhome Travel Agency (MTA) can arrange the trip of a lifetime. The family-owned company in Bristol, England books hassle-free getaways in splendid Dethleffs recreational vehicles. MTA says "You just turn up, and leave the rest to us." They tailor vacations to customer preferences, and map the routes, book ferry crossings and arrange tunnel passages in advance. Travelers cruise along in a glorious hotel-on-wheels created by Dethleffs that offers the comforts of home, including Wifi, TV, GPS, bedding, and towels. The popular and luxurious Globetrotter XLi comes beautifully equipped, is fully insured, and includes access to Dethleffs service centers all across Europe. With a reputation for excellence, Dethleffs has won international design and quality awards, including the Golden Steering Wheel, King Customer Award, and Motorhome of the Year.
If your dream vacation is to explore the UK, Motorhome Travel Agency already has two fabulous options: a History or Grand Tour of England, Scotland and Wales. MTA provides pre-planned itineraries, arranged camping spots, and airport transfers. Such a tour can take the traveler to the Tower of London, the idyllic green hills of Ireland and the castles of Scotland. If England alone is desired, a trip can be arranged that includes the Georgian architecture of Chichester and the historic university at Oxford, for example. Cruising through the UK means enjoying rugged coastlines, dreamy moors, and ancient woodlands. With a Dethleffs motorhome, travelers can drive, stop, rest, snack, nap -- all at their own pace. And if you wish to sample favorite local foods, such as bangers and mash or fish and chips, MTA can provide recommended restaurants and cafes on your journey.
For longer vacations, Motorhome Travel Agency offers a 60-day tour of the UK or Europe -- an adventure that includes a mix of cultures, traditions, and experiences. Travelers can taste the fine wines of France, bicycle around Belgium, grill sausages in Germany. To provide the perfect trip, the Globetrotter XLi motorhome has rear garage compartments with bikes, barbecue, and an outdoor table and chairs. It also boasts panoramic side windows, a spacious lounge area, darkening blinds that insulate, tall wardrobes with LED lights, a queen size bed and two single beds with EvoPore mattresses, and a Plexiglass shower with ambient lighting. Touring with a Dethleffs motorhome, visitors can explore rustic villages, relax on peaceful beaches, and enjoy dazzling winter resorts. Trips can be as short as 3-4 days and can be planned around golf, vineyards, local cuisine, music festivals and sporting events -- and are always in a comfortable, plush recreational vehicle.
Dethleffs GmbH, founded in 1832 to produce whips and ski poles, birthed the caravan industry in 1931 when founder Arist Dethleffs invented a two-wheeled trailer with sleeping quarters for his family. Shifting their focus to vacation vehicles, Dethleffs launched a camper production line in 1961 and manufactured their first motorhome (with a Fiat Ducato chassis) in 1983. Branching out from white and silver exterior colors, they added pastel hues in 2010. Today, Dethleffs proudly produces everything from compact Globebuses (which easily navigate narrow streets) to superior A Class motorhomes (with solid frames and spacious interiors). The luxurious Globetrotter XLi offers premier design, functionality, and countless amenities. The fully furnished gourmet kitchen has a 3-burner stove, oven, fridge/freezer and extra worktop space. Interior cabinet colors are ash white or gloss, and upholstery choices include grey fabric or cream leather. As a worldwide leader in the production of recreational vehicles, Dethleffs manufactures at their sophisticated modern plant in Allgäu, Germany, and continues to achieve excellent sales.
MTA and Dethleffs have partnered to offer a perfect caravanning experience for discerning visitors who dream of crisscrossing Europe at a carefree and relaxed pace, all the while providing convenience and simplicity as all travel arrangements are pre-arranged for a fluid and memorable vacation. For travelers who envision an ideal adventure with the comforts of home, Dethleffs offers modern amenities in a top-of-the-line recreation vehicle that exceeds expectations. The already-luxurious Globetrotter XLi can be upgraded to include options such as LED beam headlights, alloy wheels, and a panoramic skylight. When the rubber meets the road in such high-style, and you're cruising thru the Rhone Valley or touring the Scottish Highlands in a sumptuously furnished RV, you'll know you made the right decision. MTA and Dethleffs truly offer it all: organization, convenience, and a luxury heaven on wheels. What better way to make your dream vacation come true.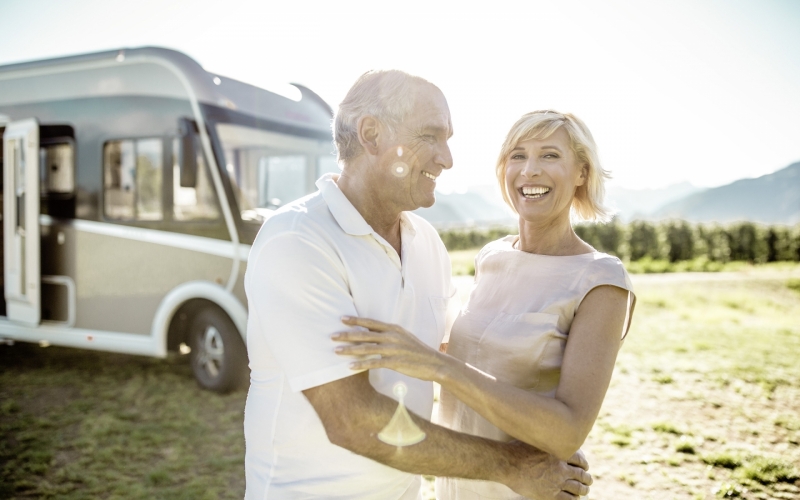 Watch Video: Tour Europe in Style with MTA and a Luxury Dethleffs Globetrotter XLi
Let's Get Social...Share this Article with a Friend