By: Skye Sherman / Photographs Courtesy of The Corning Museum of Glass
Tiffany may be a household name, but most people associate the moniker with iconic stained glass lamps. Charles Lewis Tiffany, founder of the New York-based jewelry company lauded for its fine silver, was an early trailblazer in the realm of American jewelry--but his son, Louis Comfort Tiffany went on to champion some of the finest stained glass mosaics ever created. He incorporated various materials like opalescent glass, iridescent glass, and three-dimensional "jewels" to pioneer an entirely new look in the world of glass mosaics. Tiffany was a talented artist who was willing to experiment with his art, and this led to breakthroughs in the field of mosaics and the creation of masterpieces that are still highly acclaimed to this day.
Tiffany's artistry in the world of American glass mosaics traces as far back as the late 1800's. He was inspired by both the natural world and the Byzantine art he had the good fortune to observe during trips abroad, and he traveled extensively across Europe and Northern Africa. In his field of art, he began to combine transparent tesserae, eye-catching iridescent glass, and metal leaf, and the result was a striking style of mosaic glass art that quickly gained popularity among luxury art collectors around the world. Though Tiffany's showroom was located in New York City, his work is admired by people on all continents--a fact with roots in Tiffany's propensity for showing his work in several world fairs. His magnum opus, the sprawling Dream Garden (See at the top of this article) mosaic graces the interior of an unassuming building in Philadelphia. The work looks completely different up close than it does from a distance--a testament to the intricacy and skill of Tiffany's artistic abilities.
Tiffany's workshop was well established by the beginning of the twentieth century. His mosaics were commissioned to grace the interiors of all sorts of grand establishments, from private residences to churches, theaters, hotels, libraries, and more. The artist used his New York showroom to tout his offerings to buyers and increase his earning potential. By providing "behind the scenes" access and exclusive treatment, giving wealthy clients a firsthand glimpse into the mosaics being painstakingly assembled piece by piece, Tiffany was able to ramp up the perceived value of his work and drive considerably higher revenue for his art. His business acumen nearly matched his artistic prowess, and he took full advantage of the period's spike in American consumerism.
In January of 2018 the Corning Museum of Glass in Corning, New York, presented the first exhibition dedicated to the intricate mosaics made by Louis Comfort Tiffany's glassworks. This outstanding exhibit combined works from The Neustadt Collection of Tiffany Glass and pieces loaned from other institutions and private collections. It also displayed watercolor paintings, drawings, and sample panels that reveal how mosaics were created in Tiffany's workshop, a painstaking and time-consuming process that resulted in priceless works of mosaic glass art. For example, one of his most significant commissions, Jacques Marquette's Expedition (located in Chicago's Marquette Building), depicts a meeting with members of the Illinois tribe of Native Americans. Visitors to the exhibition were given a view of the late 19th-century world of a gilded age and a sense of being transported back in time to the master's studio.
Stemming from a creative and refined family of artisans, Louis C. Tiffany was a pioneer in the field of American glass mosaics. Works like Fathers of the Church and The Prayer of the Christian Soldier have distinctly religious significance, but Tiffany also nurtured an appreciation for the physical world and used his art to reflect the beauty of nature. Because of Tiffany's wide repertoire of subjects, his works are displayed in a variety of buildings, such as churches, museums, and even homes around the world. To this day, Tiffany's work sets the standard for fine art created with a meticulous dedication to detail and an unflinching devotion to fine art that both delights the eyes and takes one's breath away.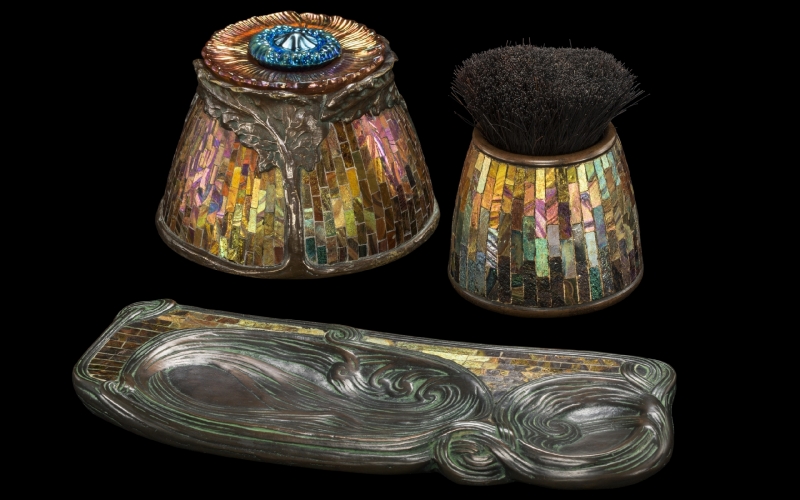 Watch Video: Louis Comfort Tiffany's Glass Mosaics Panels...Sheer Brilliance
Let's Get Social...Share this Article with a Friend