By: Naja Syed / Photographs Courtesy of The Mulia Bali
Anyone seeking Luxurious Indulgence, and Beyond, look no further than The magnificent Mulia Bali. Located in Indonesia, this magical beachfront hotel is a coveted tourist spa destination. The naturally stunning resort village was built on the world's first designated purity reserve and consists of three spacious properties: The Mulia, Mulia Resort, and Mulia Villas. Each grand estate rests on the sandy coast of the immaculate Nusa Dua beach, covering thirty acres of land, and affords a uniquely stunning view of the Indian Ocean. The Mulia includes 111 grand suites, while the Resort features 526 elegant rooms, and both provide flawless butler services and spectacular swimming pools. The Villas, which consist of 108 luxury homes, are themselves a key charm of the hotel, presenting a lush sanctuary of extravagant bliss.
A stay at the Mulia Bali is at four-star pricing; the dazzling Mulia Villas offer majestic grandeur that is sure to blow your mind. The Mulia complex consists of one to six-bedroom luxury chateaus, sheltered within luscious hillside gardens. Designed and decorated with modern Indonesian furniture, each villa is home to a cavernous pavilion, soothing hydrotherapy swimming pools, private meditation gardens, and breathtaking views of the Ocean. The stunning one-bedroom, two-bedroom, and family accommodations invite visitors to sleep on luxurious 400-thread count sheets and indulge in a rejuvenating Jacuzzi experience, all the while taking advantage of impeccable service. Villa patrons are also privy to complimentary dining options and exclusive access to hotel restaurants and oceanfront pools.
Additionally, two enchanting Villas, the Presidential and Mulia Mansion, serve to delight the senses as well. Both are well suited for groups traveling together and offer unparalleled concierge service that will make you giggle with delight. The presidential villa has three sprawling bedchambers with beautiful views of the azure blue sea, while the Mansion features an expansive six-bedroom chateau that presents heart-stopping views of the ocean and surrounding gardens. These fabulous lodgings have private swimming pools with a copious space for rest and refreshments that are sure to soothe mind and body. No matter where in the Mulia Bali a visitor chooses to stay, each suite, room, and villa flawlessly combine luxury and relaxation for a brilliant travel experience.
Apart from these in-house indulgences, guests may partake in awe-inspiring excursions from the hotel. Rightfully dubbed "Island of the Gods," Bali is a gorgeous province where tourists may kayak, visit ancient temples and wildlife parks or, participate in exciting beach activities. Following a day of stimulating fun, residents will have the opportunity to savor a five-star meal with many options. Guest can order room service, with diverse culinary selections and friendly waiters, or make it an exciting night out at one of The Mulia's fabulous restaurants. The resort has nine eateries and bars, which prepare special drinks, traditional Chinese, Japanese, Mediterranean, and international cuisine with heavenly desserts. These calories can later be burned off by swimming in the Mulia's trademark beachfront pool or attending complimentary exercise classes in the large hotel fitness center.
Residents may choose to relax at the ultramodern Mulia Spa, a luxurious haven for all who visit Bali. It has a tranquil sauna and steam room, meditation area for yoga enthusiasts with twenty comfortable treatment rooms where one may indulge in lavish exfoliations, Balinese massages, body scrubs, and more. The spa also has a unique feature that houses the Asia Pacific's only Ice Fountain Room, a chamber set at 1-degree Celsius which uses chromotherapy to improve health and fitness. After all of this pampering visitors can enroll in the lifestyle wellness program and receive a personalized dining menu, customized fitness classes, access to a luxury Wellness Suite, and a cornucopia of additional spa regimens. Further, guest can enjoy a delicious herbal infusion from the juice bar. No to be missed!
It's no surprise that many couples choose The Mulia as their wedding venue of choice. The resort offers brides and grooms-to-be three romantic wedding chapels, two elegant ballrooms, and the options for a beach or garden ceremony. They can also choose from an ocean, or garden setting, and from optional packages that meet their unique requirements. The Mulia concierge service will take a couple's wedding request and create a personalized event that will be remembered for a lifetime. Both newlyweds and their guests will surely treasure each moment at this fantastic Balinese escape – the sparkling beaches, luscious gardens, marvelous resorts, and unmatched service, makes The Mulia Bali perfect for any travel experience. Whatever the occasion, one thing is certain: Mulia Bali is sure to be a Luxurious Indulgence and Beyond.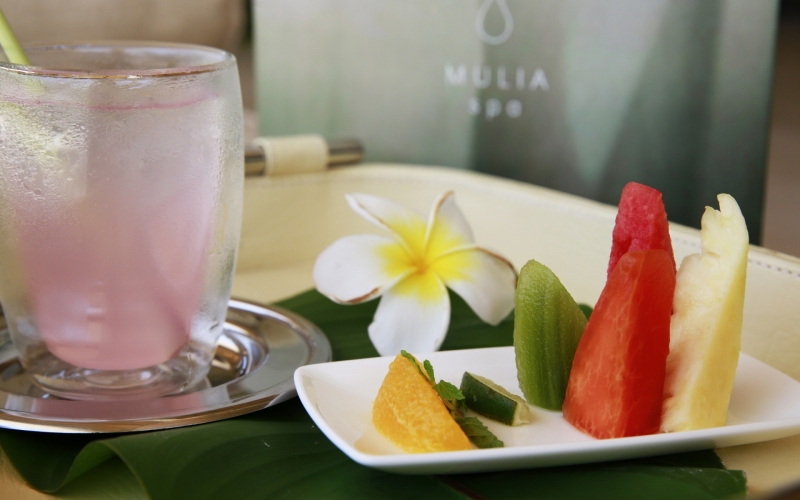 Watch Video: The Mulia Bali, Luxurious Indulgence, and Beyond
Let's Get Social...Share this Article with a Friend