By: Daniel Evon / Photographs Courtesy of Four Seasons Private Jet & Others
If you're seeking pampered travel from beginning to end, then look no further than the Four Seasons Private Jet Experience. The Four Seasons has brought their signature style of luxury and panache out of their chain of hotels and onto an aircraft that will transport jet-setters from one location to the next in the utmost comfort and splendor. The experience begins the moment you set foot on the jetliner, as you take in the sumptuous furnishings and attentive staff. Your trip will be personalized from start to finish with exceptional travel guides, unique itineraries, and deluxe Four Seasons accommodations.
The Four Seasons Jet is a Boeing 757, fully customized with 52 seats, giving each person plenty of legroom to stretch out, recline and enjoy the journey. Accompanying you on your trip will be a dedicated on-board team and staff to follow and guide you throughout your tour. While each of the Four Seasons trips are unique, all travel, food, drinks, luggage, room and planned activities are included.
With all the space of a Boeing 757 and only 52 seats, this luxury jet will get your trip started on the right foot. Whether you choose to read, watch movies or sleep, all the best amenities are provided. With the unique two by two seating arrangement, you'll arrive at your destination without jet lag and well rested. To attend to all of your needs, there's a minimum of 21 hotel-trained staff members aboard each flight. Each passenger is allowed three pieces of luggage (one can be golf clubs). Carry-on bags include a larger bag for books and entertainment materials and a smaller, personal item, such as a purse or a camera bag.
One of the special amenities of the Four Seasons Jet is the gourmet food. Meals on the flight are specially created by Four Seasons executive chefs and use only the freshest ingredients. Meals and assorted beverages will be provided throughout your journey. However, each destination will present a unique and special meal that focuses on a local culturally menu and live performance. Children are welcome aboard these trips, but it's suggested that you only bring older, well-traveled children.
Depending on where you would like to go, you can choose from five different journey options; each trip ranges from 19 to 25 days. These all-expense paid trips will take you to the far reaches of the world, from Koh Samui, Thailand to Sydney, Australia; from Moscow, Russia to Dubai, UAE; and from Nice, France to Seoul, South Korea. Some journeys begin overseas while others start from various locations around the U.S., such as Austin, Texas and Seattle, Washington. At each stop, your itinerary will be well-planned and organized for you to make the most of each location and introduce you to the local culture.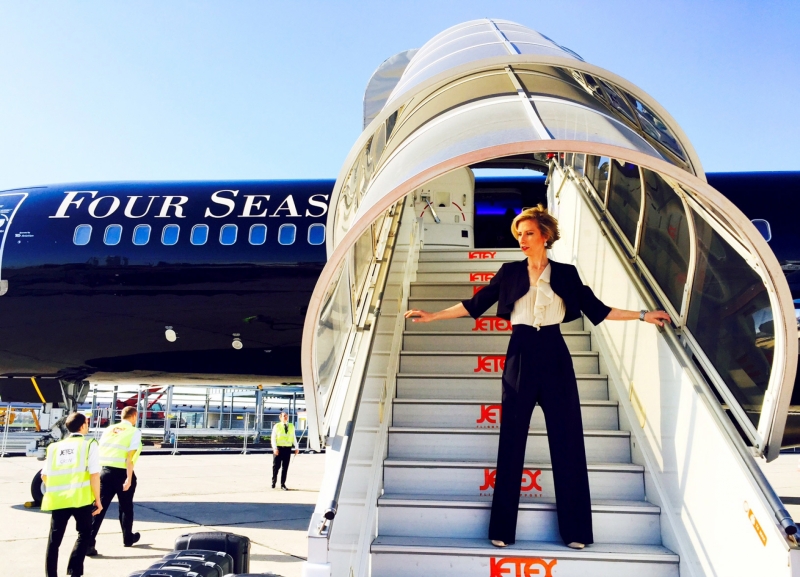 Watch Video: The Four Seasons Private Jet Experience
Let's Get Social...Share this Article with a Friend