By: Tom Oliver / Photographs Courtesy of Oceania Cruises
To sail aboard one of the mid-sized cruise ships of Oceania Cruises is to be surrounded by luxury, service, haute cuisine – and Exotic Destinations. There's a country-club feel – but one needn't pack a tuxedo or evening gown. Oceania's crew-to-passenger ratio is kept small, to provide unparalleled service to all. The intimate, beautifully-designed, and stylishly-appointed vessels of Oceania Cruises – the Regatta, Insignia, Nautica, Sirena, Marina and Riviera – travel to all of the world's most idyllic and fascinating destinations, be it Africa or Alaska, the Mediterranean or Montego Bay. Oceania Cruises not only offers a variety of possible sea journeys, but depending on the specific cruise, classes, lectures, and seminars are taught by experts. Savor wine-tasting experiences and upscale dining for gourmands, oenophiles, and the naturally curious.
All of Oceania Cruises' passenger quarters feature flat-screen televisions and Bulgari toiletries, as well as fine linens and down pillows. Passengers can choose from inside staterooms, veranda staterooms, and suites (all suites come with butler service). Each increasingly-spacious category of suite also features more perks than the category below it – for example, unlike the Oceania Suites, the Penthouse Suites have walk-in closets; Vista Suites, surround sound systems and an exercise space; and the very roomy Owner's Suites, free in-suite bars. The furniture in both the Oceania and Vista Suites are by designer Dakota Jackson, while Owner's Suites are appointed with Ralph Lauren Home - just more evidence of the fashion and style sense that is a crucial part of the Oceania Cruises experience.
Not only are a myriad of choices available, but the restaurants and eateries of Oceania Cruise ships offer open seating. For those in the mood for casual food, there's Waves Grill or the Terrace Café. The Grand Dining Room is the place to go for Continental cuisine. For something, a bit more out of the ordinary, Oceania Cruises offers niche restaurants like the Polo Grill for steaks and Toscana for Italian. Aboard the Marina and Riviera, one can find the eponymous French bistro of Oceania Cruises' 'chief chef' Jacques Pépin, as well as the funky Asian-fusion eatery Red Ginger. And that's not an exhaustive list of the many places to dine aboard the ships of Oceania Cruises.
La Reserve has allied with Wine Spectator magazine, and now Oceania Cruises offers passengers a sophisticated indulgence of wine tasting by Wine Spectator. This expert teaming produces seminars regarding significant vintages associated with the port of call, and pairings of reds and whites with haute cuisine. Jacques Pépin – Executive Culinary Director at Oceania Cruises - oversees the three menus for La Reserve: the Discovery menu, the Odyssey menu, and the Connoisseur Menu. Passengers can meet fellow gourmands and wine connoisseurs while experiencing a decadent seven-course meal, and enjoy a premium wine selected by the sommelier, chosen to accent the food from that part of the world.
The Oceania Cruise ship Marina sails from Amsterdam to Lisbon from September 17-29, 2019. Those lucky enough to take this ten-day voyage will be able to learn from renowned chef Jacques Pépin, via lectures and demonstrations, and they will also be able to enjoy special fare prepared by a real master. But if that cruise presents a scheduling conflict, there are many more ways to learn on Oceania Cruises. The cruise line offers renowned experts from a variety of fields as lecturers. Oceania Cruises also offers tempting trips focused on health, wellness, and music. On both the Marina and the Riviera, the Culinary Center teaches about food, with a liberal sprinkling of fun. Also to be found on those two Oceania Cruise ships is an 'Artist Loft,' where passengers can take a variety of courses, from painting to needlework.
The luxurious therapy of world-famous Canyon Ranch SpaClub is available on Oceania Cruises. Passengers can lose themselves in a day of treatments while fitness buffs can take advantage of the many complimentary classes available. While dining aboard, guests can also check the menus at every eatery on the Oceania Cruise ship for healthier recommendations from Canyon Ranch SpaClub. Further, Aromatic steam rooms, thalassotherapy pools, and private sundecks are also offered to Oceania Cruises passengers.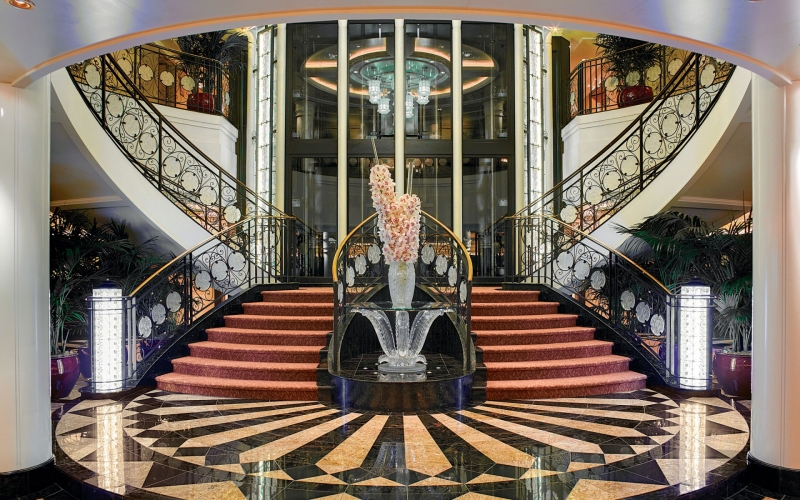 Watch Video: Oceania Cruises, Exotic Destinations and Haute Cuisine
Let's Get Social...Share this Article with a Friend