By: Susannah Cord / Photography Courtesy of Globe-Trotter
Gustave Flaubert, the 19th century French novelist, stated that "Travel makes one modest, you see what a tiny place you occupy in the world." As he died a few decades before the invention of Globe-Trotter Luggage in 1897, he may be forgiven for thinking so. Since then, Globe Trotter Luggage, handcrafted and synonymous with great British Design, has ensured that even the tiniest space occupied by their clientele is packed with lavish elegance and luxurious innovation. Created by Englishman David Nelken, Globe-Trotter Luggage started out in Saxony, Germany, handcrafting cases from vulcanised fiberboard. Lighter and more durable than leather, Globe-Trotter Luggage soon met with success, becoming the kit of choice for notables from Winston Churchill to Sir Edmund Hilary and Queen Elizabeth II, who famously used a Globe-Trotter suitcase on her 1947 honeymoon, an item that may still be found among her travel set to this day.
Over 120 years on, the tradition for supreme quality and attention to detail continues in the Hertfordshire workshop in England, where the focus remains on the brand's philosophy of 'uncompromising integrity of craftsmanship.' The success that instigated the move from Germany to England in the 1930's has not waned but rather bloomed as they continue to draw upon a vast store of archived historical designs, delicately blended with modern concepts of adventure and luxury. A recent addition to Globe-Trotter's Safari collection epitomizes this excellence in design, recalling a time when to travel was to live on the gilded edge of existence, an edge reflected in both dress and luggage. With vibrant hues drawn from the Maasai tradition and the mesmerising landscapes of Kenya, the Maasai trolley features a lining inspired by the 'shuka', a bold cloth favored by the Maasai and beautifully enhanced by the ivory case and red fittings.
Should a customer be enthused but not satisfied by the ready-made designs, Globe-Trotter offers bespoke luggage, where the traveler may design their own, unique suitcase, applying personal sensibilities to an item of exquisite quality, a quality that has granted Globe-Trotter iconic status as 'The World's Most Famous Suitcase.' Handcrafted by expert artisans from vulcanized fiberboard, a material developed for the British Army in the 1850's, each piece is manufactured using original methods on machinery dating back to the Victorian advent of the brand. A five day process molds the leather corners while the wooden framework is the responsibility of a single carpenter throughout. The combination of a singularly strong but lightweight product has ensured the long term practicality of the Globe-Trotter suitcase, while their enduring and unique sense of aesthetics has garnered the approval and collaboration of not only individual customers, but brands like Gucci and J. Crew.
There's a story of timeless appeal with durability told in every piece of Globe-Trotter luggage, but perhaps none better than by the sticker covered case gifted to brand designer, Charlotte Seddon, by 1960's BOAC air hostess, Hilary Faddish. Traversing the globe during what is often called 'the golden age of travel,' Faddish made of her Globe-Trotter case a pictorial account of a life lived in the heyday of aviation. Applied to the interior of her case, Faddish's stickers from hotels, many now long gone and forgotten, have inspired Seddon to imbue the SS-17 collection with a touch of nostalgia, channeling sticker designs into the lining of suitcases and hand luggage alike. Reinventing their famously vintage appeal, combining it with 21st century conveniences, the SS-17 collection's Centenary is a case in point, exemplifying Globe-Trotter excellence with all the chic of Globe-Trotter design, and all the ease of handle and wheels.
Always seeking to impart a sense of adventure with the mere opening of a suitcase, Globe-Trotter found the ideal collaborator on their design quest in Argentine creative director, Sofia Sanchez de Betak. To create a limited edition collection, reimagining a world where style and a sense of exploration is part and parcel of any journey, Betak drew on the Greek Isles for inspiration. Envisioning her holiday as a treasure hunt for ancient sites and hidden gems, Betak immersed herself in the culture and natural beauty of Greece from Mykonos to Santorini. Exploring locations found in the Luxury Collection of Hotels, Betak created scavenger maps in vibrant watercolor hues to grace the lining of her collection, thereby indulging Globe-Trotter's desire to inspire and tell tantalizing tales about travel, and adding yet another reason to a long list of reasons why Globe-Trotter Luggage is synonymous with the greatest of handcrafted, British design.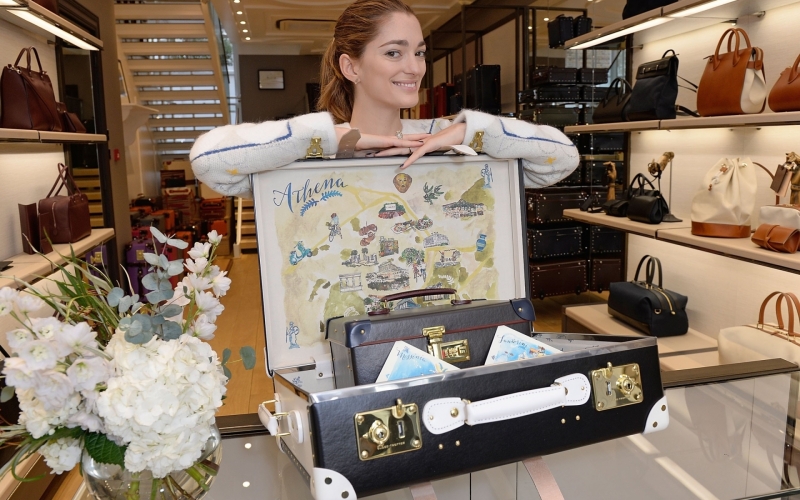 Watch Video: Globe-Trotter Luggage...Handcrafted and Synonymous with Great British Design
Let's Get Social...Share this Article with a Friend