By: Daniel Evon / Photographs Courtesy of Rolls Royce
With elegance, contemporary style, and four full-sized seats, it's the first open-top luxury drophead of its kind. Called the sexiest Rolls-Royce ever built, the Dawn's inspiration stems from its predecessor, the 1952 Rolls-Royce Silver Dawn, and unites tradition with innovative technology and sleek aesthetics to bring forth an experience like no other. By combining time-honored Rolls-Royce design, such as 2:1 wheel to body height, long bonnet, and high shoulder lines, with 80 percent newly designed body panels, the Dawn stands for luxury and uncompromised excellence.
The Dawn does more than just look good; it handles and drives better than its competitors. With a 6.6 liter twin-turbo V-12 engine under the hood and 563 horsepower at its command, this Rolls-Royce controls the road. With a wider track and a specialized satellite aided transmission that anticipates driving style, the Dawn feels as though it's gliding on a magic carpet, giving its driver and passengers a smooth and comfortable ride. Uniquely designed to isolate noise, quiet as the Dawn takes on new meaning. It doesn't matter if the roof's up or down, the Dawn keeps noise out and has proven to be the quietest convertible on the luxury market.
With four individual seats and plenty of room for comfort, the interior of the Rolls-Royce Dawn is a home away from home. Filled with soft lines created from smooth leather and wood featuring handcrafted veneer, the Dawn becomes a place to share with friends. Unlike other drophead convertibles, the Dawn's rear seating provides ample leg and storage room. With subtle enhancements like polished metal chaplets surrounding the dials, chrome instrument centres that seem to float, and a new clock design that resembles a luxury watch, there's no place better to be than in the Rolls Royce Dawn.
The Rolls-Royce Dawn features an open-top design that silently folds away in 22 seconds. Its fabric roof creates an air of sophistication and fun without the disturbing noise so often associated with it. The Dawn features a specially calibrated Bespoke Audio system with 16 speakers that give balance and unprecedented audio performance. The Dawn also has a Spirit of Ecstasy Rotary Controller, a one-touch device with a 10.5 inch screen to access media and navigation. The controller works on voice commands, making driving safer and easier. With innovative LED light technology and a roll-over protection system that engages in a fraction of a second, the Dawn delivers the excellence Rolls-Royce is known for with the benefits of modern mechanics and computing.
Experience open-top driving like never before with the Rolls-Royce Dawn. Combining the traditional aspects that make Rolls-Royce a favorite among the elite with the best of innovative technology, the Dawn gives a new breath to driving. Its welcoming feel and exceptional driving ability has lead the Dawn to exceed even luxury car expectations and its blend of classic and contemporary features makes any driver feel like king of the road. The Rolls-Royce Dawn has become more than just a vehicle; it's transformed into a hub of social interactions to share with friends that make the journey the new destination.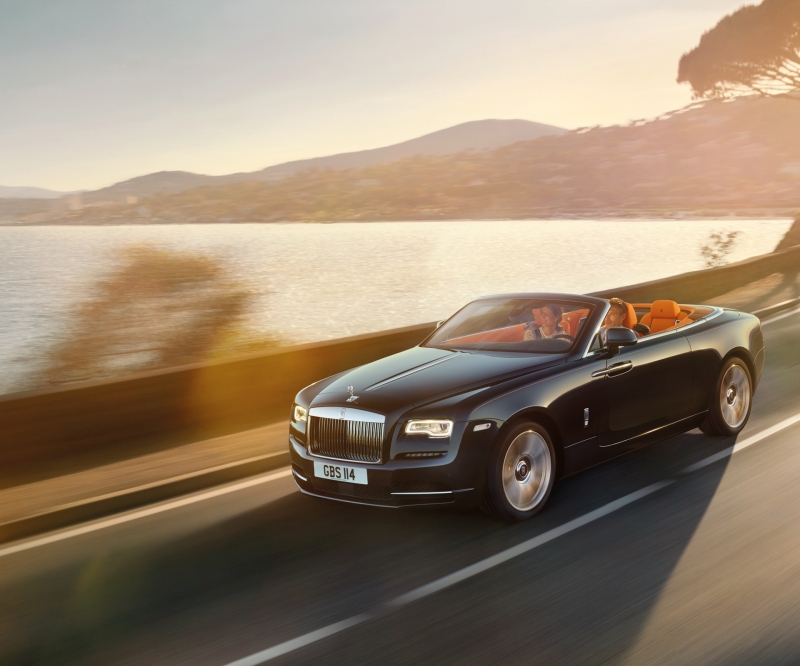 Watch Video: Introduction of the Rolls-Royce Dawn
Let's Get Social...Share this Article with a Friend