By: Susannah Cord / Photographs Courtesy of Amadeus River Cruises
Amadeus Luxury Cruises takes you traveling the world's most beautiful rivers on a fleet designed solely for the comfort of their passengers. After three decades traversing the globe's waterways, Amadeus claims eleven luxury cruisers to their name, a name synonymous with river cruising and intriguing destinations worldwide. As the company that leads the way on European river tours, today they continue to offer all of their most popular routes such as the River Seine and the Danube while including more exotic choices like the Mekong and Irrawaddy. But where-ever Amadeus Luxury Cruises calls you to travel the world's most beautiful rivers, you can count on a journey conducted in complete comfort and luxury.
With a firm commitment to ecological standards and concerns, the Austrian, family-owned Amadeus Cruises is the only cruise line in Europe to have been awarded the Green Globe Certification. Catering to both humanity's love of a pleasant journey and need the of a healthy planet, guests may enjoy the serene view of the passing landscape in peaceful luxury with a clear conscience. Offering spacious cabins and suites fitted with panoramic windows, as well as the possibility of French and full balconies, the accommodations aboard feel at once private and inviting, while allowing for the full impact of the ever-changing scenery outside.
Every tastefully designed cabin features en-suite bathrooms and pertinent amenities. A flat screen TV, telephone, air-conditioning, and writing desk all come standard, while suites feature the added luxury of a bathtub, mini-bar and walk-in closet. Amadeus takes great pains in the design of every ship, harking back to the standards and quality of old world sentiments while creating every detail with an air of elegance reinvented for the modern age. If traveling with family and friends, adjoining cabins with connecting doors make for a relaxing experience while still providing privacy when desired. Still, should cabin fever set in, there are plenty of distractions to be found, right outside the cabin door.
In true cruising tradition, dining on board is an experience in itself. With gourmet chefs creating superb meals reflecting the culture and produce of the region through which the vessel sails, the guest can count on every meal being a journey in itself. The Amadeus Luxury Cruise Line prides itself on menus that are rooted in the classics while finessed and artfully presented with a touch of contemporary haute cuisine, accompanied by wines selected for their suitability with each dish. Arranged with the intent of proper presentation by a well-trained waiter, every meal leaves the guest with the sensation of having attended a royal banquet.
The vessels of Amadeus Luxury Cruises indeed offer every luxury possible. With 24-hour coffee stations, sun decks and enclosed terraces, there is always somewhere to relax and visit with friends. A walking track takes the guest past the golf putting green, and perhaps a game of chess interrupts the promenade or for the most energetic guest, the fitness room beckons. If a little pampering is in order, the hair salon or massage therapist is ready to comply, leaving their guest spoiled and ready to disembark when the vessel docks, and eager to make the most of a diverse offering of excursions.
Whether in Europe or further afield, Amadeus Luxury Cruises not only take their guests traveling the world's most beautiful rivers, but organize a cornucopia of excursions that immerse the traveler in the beauty, history, and culture of the countries through which they sail. Guests experience the best of every setting; cathedrals and castles, Roman ruins and quaint villages, while themed cruises offer an added focus on concepts such as classical music and even Christmas and New Year. But whatever the season or theme, with Amadeus Luxury Cruises a traveler may rest assured of a journey undertaken in comfort and luxury, with stellar service and a clear conscience.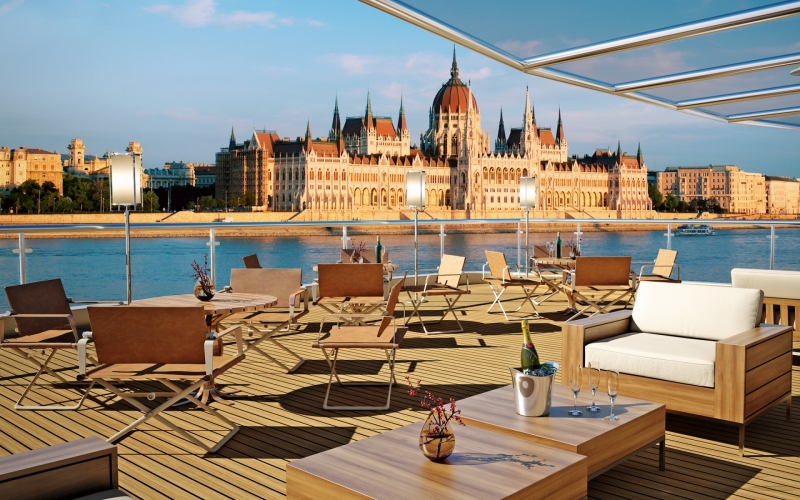 Watch Video: Amadeus Luxury Cruises, Traveling the World's Most Beautiful Rivers
Let's Get Social...Share this Article with a Friend