By: Najah Syed / Photographs Courtesy of Anne-Sophie Mutter
The exhilarating performances of violinist Anne-Sophie Mutter, who has championed contemporary and Classical music in venues across the globe, are truly a sight to behold. Born in Germany in 1963, this rapturous virtuoso discovered her passion for the violin early in life. As a student, she was exempted from school to fully pursue her dream of becoming a professional violinist while aided in this noble endeavor by Austrian conductor Herbert von Karajan. Karajan, the primary conductor of the Berlin Philharmonic, inaugurated Mutter into the profession by inviting her to play with the Symphony at the age of thirteen. Mutter officially publicized her talent that same year with a debut performance at the Lucerne Festival. Little did she know, this was only the beginning of her burgeoning career.
Anne-Sophie Mutter has reached many highs throughout her remarkable journey as a violinist. At age fourteen, she performed flawlessly at the Salzburg Festival and with the English Chamber Orchestra. When she turned seventeen, she introduced her talent to the United States with an evening at the New York Philharmonic. Five years later, this fabulous musician became an honorary fellow of the Royal Academy of Music in London and heading its international violin studies department. Several famous composers have produced music exclusively for Sophie, trusting her to debut their work and to dazzle audiences in remarkable displays of brilliance. Apart from this outstanding recognition, Mutter has become a distinguished musical ambassador and world traveler: her talents have taken her throughout Europe, Asia, and North America, where she has won numerous awards. Mutter, always grateful for these honors, credits her success to her beloved violins.
Mutter owns two Stradivarius violins and cherishes each with great affection. Named after their creator and world-renowned luthier Antonio Stradivari, these magnificent violins were beautifully handcrafted in Italy during the 17th and 18th Centuries. For generations, musicians have distinguished themselves with these beautiful violins, and they are without question, irreplaceable. Mutter considers herself blessed to hold and honor the legacy of her treasured instruments while exalting and voicing the exceptional quality, beauty, and richness of colors, claiming that they have given a magical voice to her love of music. Sophie also values their dynamic range, which helps her create both soft and rich tones. Further, Mutter feels an extraordinary musical symbiosis with her Stradivariuses which is personified in her brilliant performances.
Sophie found two exceptional soulmates off-stage as well. When she was twenty-six years old, the violin virtuoso married her first husband, Detlef Wunderlich, and was blessed with a son and a daughter. After Wunderlich sadly passed away of cancer in 1995, Mutter presented him with a remarkable dedication at the New York Philharmonic. She later began spending more time with the renowned Andre Previn, the brilliant conductor, and pianist who began to composed music specifically for Mutter. Despite their thirty-three-year age difference, Mutter and Previn wed in 2002. Their marriage lasted until 2006, at which point they chose to divorce. However, Previn is still very much a part of Mutter's on-stage performances and the talented artists remain good friends and continue to collaborate.
Other impressive off-stage passions include education and charity work. Knowing that music can tell a story, Anne has a strong desire to mold future generations and enrich the minds of young soloists around the world. To do this, she established the Friends of the Anne-Sophie Mutter Foundation, which provides scholarships to talented string musicians. Anne also formed the Mutter Virtuosi, an ensemble of future instrumentalists and Foundation alumni, touring with them to showcase aspiring young professional musicians. Additionally, she supports many social causes by performing benefit concerts. Anne-Sophie Mutter is therefore not only a great violinist but also an accomplished activist and role model for young people everywhere – a force to be reckoned with. After all, as Mutter herself once declared, "I have too much fire ever to burn out." We think she has succeeded!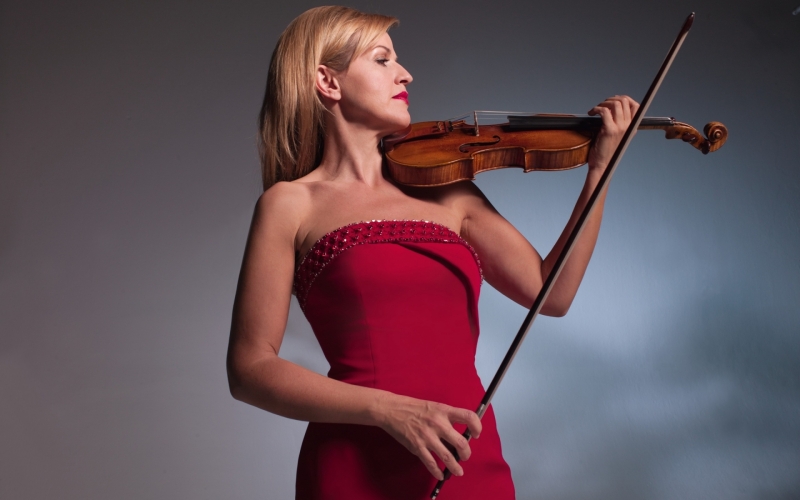 Watch Video: Anne-Sophie Mutter, a Rapturous Goddess and her Stradivarius
Let's Get Social...Share this Article with a Friend