By: Najah Syed / Photographs Courtesy of Hôtel Le K2 Palace
During World War II, the Vichy regime in France planned the construction of a luxury resort. This idea became manifest in the Saint-Bon-Tarentaise commune as Courchevel, a French Alps ski resort which consists of four separate resort villages: Courchevel 1300, Courchevel 1550, Courchevel 1650, and the amazing Courchevel 1850. The villages' specific names refer to their metric altitudes. Collectively, Courchevel is part of Les Trois Vallees, the world's largest linked ski area. All of the villages are connected by bus, and all have a unique charm. However, Courchevel 1850 is particularly special, as it was the first community to be constructed entirely from scratch. Of the four villages, Courchevel 1850 is also the largest, the main lift hub, and the most luxurious, as it houses many stunning chalets and hotels, including the magnificent Hamlet of K2.
The Hôtel Le K2 Palace has 190 employees, 29 rooms, children's areas, a ski shop, a salon, and five luxury chalets, all with views of the Cospillot slopes on which the hotel is situated. These chalets are named the Abbruzes, Baltoro, Karakoram, Muztagh, Panmah and each is uniquely luxurious. For example, the Panmah Chalet houses ten guests and contains four floors with five bedrooms and bathrooms. Guests may ski directly in and out from the hotel, as the ski lift is located in front of the main entrance. On the ground floor of the Panmah Chalet are a spa, massage room, cinema, terrace, staff bedroom, and an indoor swimming pool with lounge area. The first floor has four bedrooms and bathrooms, each with dressing rooms and balconies. The second floor has a bar, kitchen, dining room, library, balcony, and two lounge areas with fireplaces. Lastly, the third floor has a bedroom, bathroom, dressing room, and balcony. Guests enjoy full WiFi and hotel access, along with butler, chef, housekeeping, and concierge services.
The Baltoro is another elegant chalet at the K2. Slightly larger than the Panmah Chalet and has three levels. It also houses up to 10 guests and consists of five bedrooms and bathrooms. Again, guests may ski directly to and from their lodgings. At the ground level of the Baltoro is the indoor swimming pool with lounge, steam room, spa area, TV room, terrace, and one bedroom. The first floor has one staff bedroom and four guest bedrooms and bathrooms; each room includes separate dressing areas and balconies. Lastly, the second floor of the chalet contains a bar, kitchen, dining room, library, balcony, and two large lounge areas with fireplaces. All guests at the chalet enjoy luxury bath and beauty products, bathrobes, and slippers. Just as the Panmah, the Baltoro also provides full WiFi access, the services of a chef, housekeeper, with Butler, and access to all K2 facilities, which are linked by an underground tunnel.
The Abbruzes chalet also has three levels and houses up to 12 guests and consists of six bedrooms and bathrooms. The ground level includes an indoor swimming pool and jacuzzi, steam room and terrace. On the first floor are five bedrooms and bathrooms; each bedroom contains individual dressing rooms, balconies, and LCD TVs. The second floor includes a bar, kitchen, dining room, library, two lounge areas with fireplaces, and the sixth bedroom and bathroom. Guests also enjoy bath products, bathrobes, slippers, and WiFi access. Just as the Panmah and Baltoro, the Abbruzes provides residents with Butler, Chef, and Housekeeping services, and also contains a "Ski-in/ski-out" feature which, due to its location on the Cospillot slopes, has state of the art ski lifts and links to Les Trois Vallees.
Spending a day in Courchevel is nothing less than fabulous. Upon waking in the morning, guests can take a dip in the lavish Palace swimming pool, which is adorned with waterfalls and jets. Later on, guest may venture out to the village of Courchevel and spend some leisure time at The Forum, a central space which includes an ice rink, bowling, sports hall, concert areas, high-end shops, and gourmet restaurants. If guests wish to forego the village and stick to the slopes, they will be rewarded with some of the finest skiing in the world. Whether your a novice or a seasoned pro, you have arrive at a winter playground that has on equal.
Before experiencing the exciting nightlife of Courchevel, guests will want to stop at the Hôtel Le K2 Palace for a sensational dining experience at either of it's two world famous restaurants, the Kintessence and the Black Pyramid Restaurant. Both offer spectacular mountain views, and their menus have been prepared by Nicolas Sale, a chef whose expertise has earned him multiple Michelin Stars. After dinner visitors may wish to shop at legendary upscale boutiques, many travelers have suggested that Courchevel is a winter version of Saint Tropez. With retailers such as Graff, Blu&Berry, Dior ski, Fendi ski, Isabel Marant and Valentino Boutique. Whatever activities in Courchevel a visitor may choose to partake in, there is always one guarantee: it will be the grandest, most magical vacation of a lifetime. Truely Magnifique!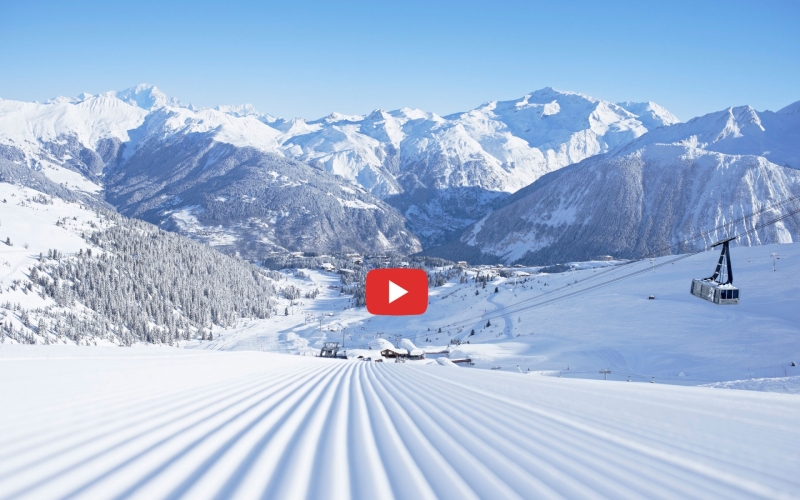 Watch Video: The Hamlet of K2 below, Courchevel 1850, France
Let's Get Social...Share this Article with a Friend