By: Tom Oliver / Photographs Courtesy of Princess Yachts
Experience remarkable sophistication with the new Princess 30M Class, a powerfully and lavishly-equipped entry point to Princess superyachts. This amazing yacht is offered by the famous Plymouth, England-based ship-builder of luxury pleasure craft. Built of weight-saving resin-infused composites, this semi-custom yacht can cut through the water at up to 30 knots. Hull lines and the rest of the naval architecture were designed with long range cruising in mind – without sacrificing speed or stability. There's plenty of room for all your guests on the ship – which features a neat reverse cabin blueprint with main deck master, and either three or four additional en suite cabins. Once purchased, your wait for the 30M will be swift – Princess assembles each craft in modular fashion. The bold styling and thoughtful design of the vessel only enhance the Princess reputation for crafting some of the finest superyachts in the world.
As opulent as the cabins and salon are, nothing compares to viewing your surroundings as an open bridge- courtesy of the superyacht's stunning and well-appointed flybridge. Modular furniture, a sunroof, and a full wet bar make this eye-catching structure on the Princess 30M a luxurious spot for relaxing and scanning the horizon. A large screen TV that can be raised or lowered and is built into the furniture allowing you to create a spontaneous screening room at sea. There's a large swim platform, as well as a stern garage which has plenty of room for jet skis. With the 30M's innovative pilothouse design, guests won't be disturbed, should you have crew members, who have lots of independent access points, and quarters located to the bow. Her navy blue hull is a masculine departure from the generic whites of most yacht exteriors.
You can custom-design a good portion of the 30M's interior. And only the finest marble and granite finishes, custom cabinets, and luxury fabrics are ever used to appoint her cabins and washrooms. The Princess interior designers will work with you to style the salon according to your seating and decor preferences – the buyer of the very first 30M opted for inlaid carpets on the main deck, rare stones in deck walls, and Italian plasterwork in a foyer. Even elegant sliding doors to separate the salon from the starboard balcony are an option. The master stateroom has an immense skylight featuring electric blinds, windows unobstructed by bulwarks, an adjoining bathroom with double sinks, and, in a nod to the man-cave, a fridge next to the bed.
The Princess 30M is a masterwork of precision and power, with its high-tech system that controls thrusters, stabilizers, and a pair of anchor windlasses, two MTU diesel engines, and two 40kw generators. You can choose to power the ship with pairs of 1900, 2200, or 2600 horsepower motors. Power-aided steering comes standard, and the 30M has a range of 1200 nautical miles at 10 knots. When sitting at the helm of this majestic marvel of technological brilliance, you'll know that the finest craftsman in the world have created a safe and and reliable craft for generations of enjoyment.
A stylish symphony of design, energy, and the height of luxury lifestyle, the M30 Class is available for delivery to those discerning individuals wishing to immerse themselves in remarkable sophistication and to enter the world of Princess Superyachts. When you are at the helm of this magnificent craft, there will be no question that you have arrived - in more ways than one. Elegant and sexy, the 30M Class yacht will take you to any of your dream destination, but will always bring you beyond the average, letting you experience exceptional living on the high seas. If you have the opportunity to visit England this year, be sure to stop by the Princess Shipyard in Plymouth, England for a Royal tour...or, see the new M/Class at the 2018 Monaco Yacht Show, Port Hercules, September 26-29th.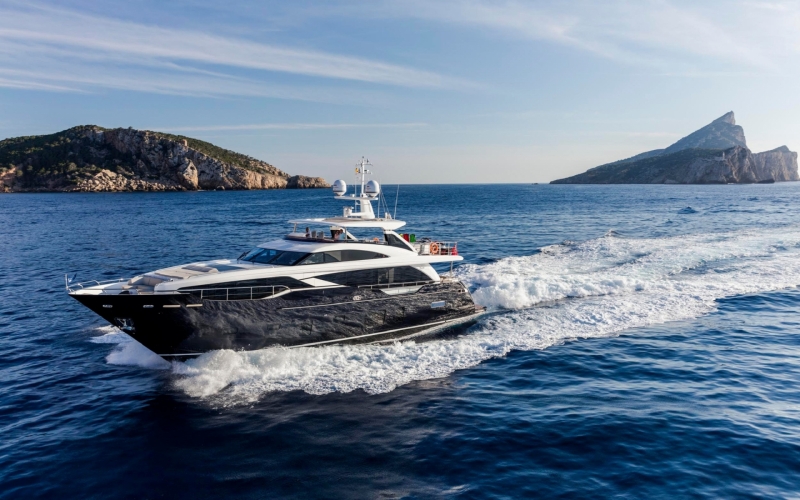 Watch Video: Princess Yachts, Immerse Yourself in Remarkable Sophistication with the New 30M Class
Let's Get Social...Share this Article with a Friend