By: Jeffrey Steele / Photographs Courtesy of Oris Watches
Precision Swiss watchmaker Oris prides itself on the slogan "Real Watches for Real People." If, as the tagline suggests, the watches have earned a popular cache with working folks, that may be attributable to the refreshing independence of the watch's makers. The traditional, highly mechanical performance of its products, as well as the company's well-established and fiercely self-reliant stance, have helped vault Oris into the forefront of the world's watch-loving consciousness. Long-time CEO Ulrich W. Herzog shepherded the watchmaker through and past the quartz crisis, to a position right alongside the best known names in the business. As the world rediscovers its desire for watches reliant not on quartz, but on cogs and gears, Oris enjoys an ascendant position among Swiss watchmakers. With its Baselworld 2017 debut of the sleekly modern Aquis Date, an update on the traditional diver's watch, Oris did nothing but crystallize that enviable position.
When Oris determined to create a diver's watch that would set new standards in precision and quality, they used as inspiration the trailblazing ethos of professional deep sea diver and Oris brand ambassador, Roman Frischknecht. Spending long periods deep under the waves engaged in work involving diving ships and oil rigs, Frischknecht knows his very life depends on the equipment he takes with him into the depths. He requires a diver's watch capable of delivering information that could spell the difference between calculated risk and incalculable danger. Oris embraced the challenge, creating the Oris ProDiver Pointer Moon, the first watch capable of indicating tidal range, an indispensable insight for divers like Frischknecht. This brand of innovation renders the physical and mental challenges of deep sea diving a bit less taxing for Roman Frischknecht, and other divers who ply the same inky depths.
With a lineage dating to the late 1990's Full Steel, Oris Aquis has long savored a reputation for strength, reliability and uncompromising quality. While the Aquis remains every bit the professional dive watch it's always been, Oris has elected to imbue this solid, robust and very masculine workhorse with a still-powerful but now more refined quality. The legibility remains every bit as perfect, the horns equally brawny and the strap/bracelet integration with a case just as brilliantly designed. But a slimmer profile, bolder and more angular hands and indices, more easily gripped bezel and a streamlined crown and crown guards serve as stellar advancements in this updated Aquis Date collection. The result is a divers' watch that works in any setting and is every bit as appropriate beneath a cuff as it is beneath the waves.
If you're assuming Oris built its reputation on serving only professional divers, think again. The company's watches are just at home in the skies as they are deep beneath ocean surfaces. Case in point: the original Oris Big Crown ProPilot Worldtimer. Added to the Oris catalogue and unveiled to delighted pilots in 1997, the Big Crown ProPilot Worldtimer was a very attractive, good sized, high-value, easy-to-read GMT/Dual Time Zone watch with a home time subdial and a main-dial hour hand adjustable in single-hour jumps either forward or back. For the 20-year anniversary, the watch's aesthetics remain virtually unchanged. But enhanced functionality has been built into this classic timepiece. The pusher system to change the hour hand on the traditional model is no more, replaced by an hour hand that can be adjusted through a simple turn of the bezel. Oris Big Crown ProPilot Worldtimer is prepared to soar.
Through the years, the Oris philosophy has steadfastly adhered to principles of independence and innovation. The company and its watches have clung to the leading edge of mechanical inventiveness while remaining true to the traditional values of craftsmanship and quality that first cemented its popularity. Nowhere has that zeitgeist been more manifest than in the Oris sponsorship of Formula 1 racing. Oris first sponsored the Williams F1 team 15 years ago, later being anointed the team's official watch partner. As observed by no less a racing fan than Ulrich Herzog himself, "We at Oris can fully identify ourselves with this competitive racing environment, and the commitment to quality and success." This year as in the past, the Oris name will grace the Williams Martini Racing team's cars and its drivers' gear. The hoped-for result will be Formula 1 racing wins every bit as regular as clockwork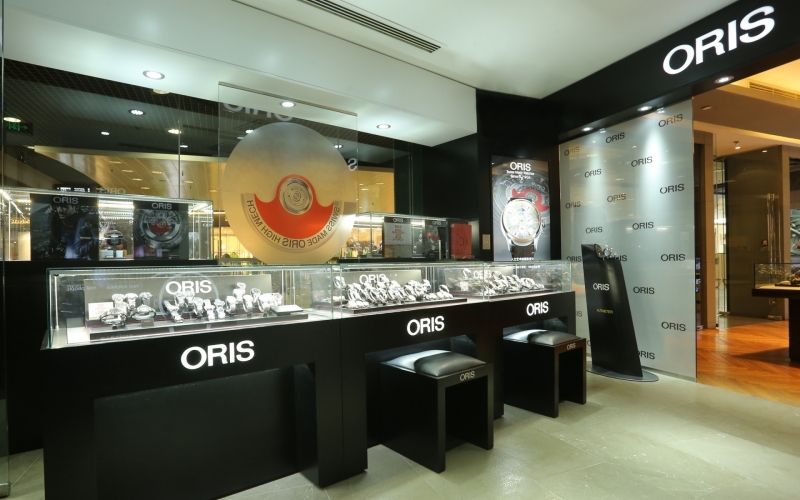 Watch Video: Oris, Swiss Made Watches...A Profound Spirit of Independence and Heritage
Let's Get Social...Share this Article with a Friend