By: Susannah Cord
What was it that set the remarkable painter known as El Greco apart from not only his contemporaries, but generations of artists to come? Was it his Byzantine background or the Italian influence of artists like Titian? Was it the Mannerist movement which inspired his new interpretation of reality, or the primacy given to color rather than the traditional standard of form? Perhaps El Greco himself made it clear when he famously stated that "I paint because the spirits whisper madly inside my head." These spirits would lead El Greco on an artistic journey as bold as his brushwork, a journey that would ultimately inspire future painters and writers alike and win him worldwide fame. In his lifetime, his success was limited and transient, the world at large not quite ready for the vision that informed his work.
Born on Crete in 1541 to a wealthy family, art was a natural calling to the young Greek. By his early twenties, El Greco had conquered his Byzantine roots, producing religious icons worthy of the title of Master. Seeking further inspiration and instruction, the young Dominikos Theotokopoulos set sail for Venice, where he came under the tutelage of the renowned Titian, finding a passing answer to his passion in the lush and textured surfaces of the Venetian Renaissance and the works of Michelangelo. Further inspired by the style of the Mannerist movement, El Greco's work began to deviate from the classical approach to depiction and take on the elongated, almost abstract representation of figures for which he would become famous. Choosing to paint with pigments so vivid as to appear chalk-like, El Greco created near surreal paintings that would challenge the accepted norms for visual dialogue between painting and viewer.
Finding little favor in Italy, El Greco continued to Spain in 1576, where King Phillip II dismissed his talent at court. It was in Toledo that El Greco finally found both his earthen and spiritual home, where his passion for spiritualism was abundantly met and that his search for the innate divine in all things led to inspired choices in technique and representation that would forever set El Greco apart, and ultimately, foster the Spanish Renaissance. As a free thinker, El Greco inspired fellow artists to believe and trust in the power of the artist's imagination, to go beyond the obvious and seek the spiritual truth and perfection beneath, a search he fervently believed defined the true virtuoso. It was a tenet previously unknown in Toledo, that El Greco would embrace and come to embody fully for the rest of his life.
As El Greco evolved fully from his early mastery of Byzantine devotional art to exemplify an extraordinary assimilation of elements of the Venetian Renaissance and the Mannerist style, he devoted the majority of his later work to the religious mysticism of Spain. Finding success in commissioned works like The Virgin of the Immaculate Conception, he flourished under the patronage of the Dean of Toledo Cathedral. His visionary talent bloomed as his workshop grew busy with commissions for religious sculptures and paintings. A talent always in movement, his style continually evolved, reinventing longstanding religious themes and creating works that dramatized rather than described. Prioritizing perception and inspiration over realism, El Greco abandoned known principles to favor techniques like radical foreshortening and the dissonant use of light, while his elongated figures and expressionist forms broke with tradition so far ahead of his time, they would not be truly appreciated until centuries later.
A skilled architect and sculptor, El Greco left an incalculable legacy of visionary art in the domains of Toledo, but not until his rediscovery in the late 1800's would he get his full dues as the premier painter of Spanish mysticism, and one of the finest painters of Western Art. His work would alter the path of painters like Picasso and Modigliani, inspire poets, writers, and the Cubists while predating Expressionism by 300 years. El Greco's artistic identity and methods defied labeling, presenting the spiritual and emotional in ways previously unknown, form and figure beyond bare realism. His genius would shine forth in masterpieces such as Christ Healing the Blind, only to be fully understood by the artistic panorama of the 19th Century. With a style even his own students could never fully emulate, El Greco and his whispering spirits remain the inimitable heart and soul of the Spanish Renaissance.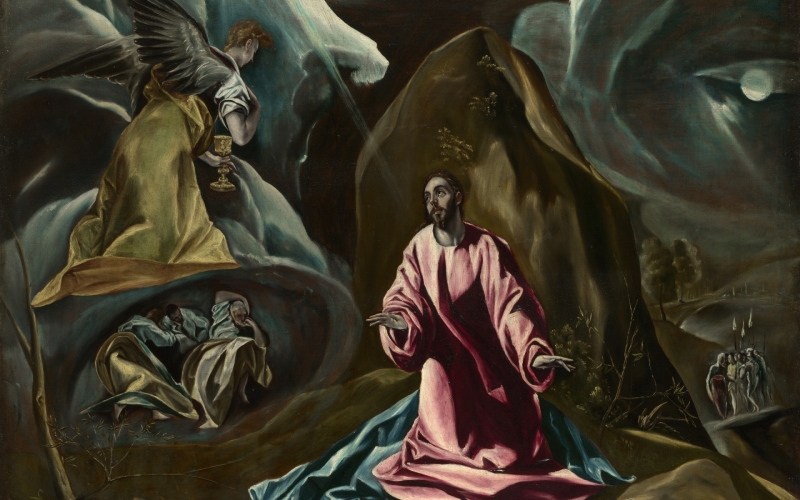 Watch Video: El Greco...and the Whispering Spirits of the Spanish Renaissance
Let's Get Social...Share this Article with a Friend