By: Sarah Louise Klose / Photographs Courtesy of OMEGA
Cindy Crawford, the tousled brunette who launched her modeling career by posing for Marshall Field's department store in Chicago at age 16, has been a brand ambassador for the luxury Omega watch company since 1995. The famous supermodel has graced magazine covers from Vogue to Harper's Bazaar in the 80's and 90's and appeared in fashion campaigns for fabulous brands including Versace, Calvin Klein and Revlon. And for Omega, Crawford has traversed the globe for more than two decades, thrilling patrons from Santiago to London and Sydney with her stunning looks and glamorous presence. She champions Omega watches at grand openings of their upscale boutiques and accentuates the timeless tradition and fierce reliability of the Swiss timepieces. Crawford believes the classic beauty and simple elegance of Omega watches permit them to double as fine jewelry.
Building on their relationship with Cindy Crawford, Omega has signed on her children as the brand's newest ambassadors, a genius move that's certain to expand the Swiss company's target audience and global reach. Crawford and family brought their movie star looks to the City of Lights during Paris Fashion Week last fall, and made a splash at the "Her Time" exhibit at the Hôtel de Sully as part of their Omega partnership. Inside the historic French villa, vintage artwork accented the display of exquisite Omega watches. French actresses, designers, and international guests marveled at early Lèpine pendants, distinctive Ladymatics, and modern ladies' watches. Omega whisked Cindy Crawford, husband Rande Gerber (creator of Casamigos tequila and sophisticated bars like The Whiskey), and children Presley and Kaia Gerber onstage, and announced they are the company's new family of brand ambassadors.
At the Paris event, Omega presented Presley and Kaia Gerber as the brand's newest ambassadors. The children join their parents in promoting Omega -- a natural pairing given their shared passion for fashion: Cindy was a supermodel, Rande juggled college studies with international photo shoots for Sassoon and Benetton, and Kaia and Presley are hitting the catwalk. Kaia Gerber, 16, was featured on the February cover of Vogue Paris and walked the runway for Fendi and Burberry. Presley Gerber, age 18, won the Emerging Model award at Fashion Los Angeles last April and modeled for Dolce & Gabbana and Calvin Klein Jeans. Given their fantastic genes and blossoming careers, the Gerbers add star wattage to the international watch brand. This atmospheric photo of Presley and Kaia Gerber for Omega watches was snapped by Peter Lindbergh, whose black and white portrait of the Crawford-Gerber family was shot in Malibu and unveiled at the Paris exhibit.
Given that Omega is rooted in tradition and innovation, it is brilliant marketing to have the Gerber children join their parents as ambassadors for the international watch brand. Kaia and Presley Gerber represent youth and creativity while bringing fresh energy to the Swiss company. They have their pulse on tasteful trends, and as the next generation of luxury watch wearers, perhaps they'll consult with Omega on design elements, just as Cindy Crawford did when she collaborated with Omega on the spectacular Constellation My Choice watch. Meanwhile, the Crawford-Gerbers happily celebrate their successes while proudly wearing Omega watches at red carpet events and above we see the family at a recent Marc Jacobs function. Further, Kaia Gerber is the new face of Marc Jacobs Daisy perfume, which will enhance her international modeling portfolio and heighten her visibility and value to Omega.
Cindy Crawford has circled the world for Omega, and her work with the iconic company has evolved in many ways, once she brought her daughter Kaia to Trujillo, Peru, to see Orbis conduct eye surgeries in emerging countries aboard medically outfitted planes. Crawford collaborated and narrated a documentary for that charity under the Omega partnership. She's been to Switzerland to observe Omega watch production and is a fan of the feminine Constellation and the elegant Ladymatic, which features a black face with yellow and gold diamonds. Crawford views Omega watches as exemplary timepieces with pleasing aesthetics and says a woman's choice of a watch varies based on time of day and outfit. Additionally, the beautiful luster, refined design and precious materials of the timepieces effortlessly complement Crawford's elegant personal style. So, just as Omega features sapphire crystals, striking details, and fine Swiss movements, Cindy Crawford and family also shine as an incandescent spotlight on this quintessential watchmaking dynasty.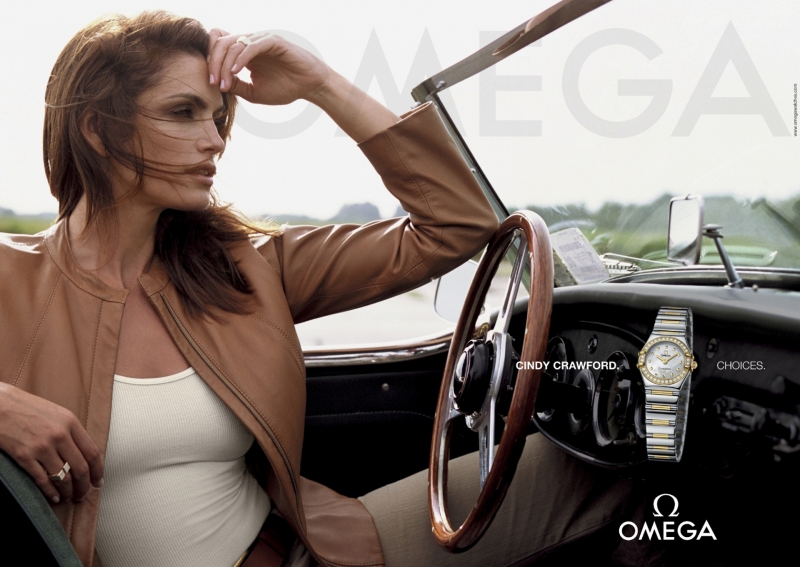 Watch Video: Omega Ambassador Cindy Crawford & Family Radiates Warmth for the Iconic Brand
Let's Get Social...Share this Article with a Friend