By: Jeffrey Steele
What's known about this case is somewhat opaque. Leonardo Da Vinci's painted his Salvator Mundi around the year 1513, near the pinnacle of his career. The tableau in question resurfaced recently and was publicly exhibited at the National Gallery London in 2011; the canvas was then authenticated as an original Leonardo early in 2017. After showings in San Francisco, Hong Kong, and New York, it came to Christie's auction house in New York, where it sold to a private buyer for $450.3 million. But the haunting mystery of the masterwork and a compelling aspect of its mystique is why the portrait spent much of three centuries hidden away. And what exactly happened to the painting for the nearly 50-year interval between its sale for a mere 45 British pounds at Sotheby's auction in 1958 and a 2005 auction at an American estate, more of a regional soiree. To solve the Mysterious Case of Da Vinci's Salvator Mundi...please read on.
There are less than 20 known works by the Founding Father of the High Renaissance Style, Leonardo Da Vinci's Salvator Mundi, meaning "savior of the world" in English, is an unforgettably evocative oil painting of a half-length Christ delivering the benediction. Once marred by the overpainting of Christ's face and hair, the work is now fully restored and is scheduled to be placed on display for public viewing at a major Middle Eastern museum. At November 2017's auction, Alan Wintermute, Christie's senior specialist in Old Master Paintings noted, "The word 'masterpiece' barely begins to convey the rarity, importance and sublime beauty of Leonardo's painting." Given what we now know, how could this objet d'art be lost for decades and marketed not once but twice in the last 60 years by those oblivious to the fact it was worth millions of dollars?
If you've begun to suspect Leonardo's Salvator Mundi had long been dismissed as a fake, your shrewd investigative instincts have not abandoned you. Before divulging more let's backtrack to the date of Wednesday, November 15, 2017. With immense expectancy, a scrupulously chosen cadre of enthusiasts, including select press corps representatives and investors descended on a private Christie's New York gallery. The occasion was the first baring of a unique artistic treasure, an unveiling so unprecedented it called for pomp, pageantry and police protection. When the sliding doors were retracted to reveal the prize, a loud gasp was heard. It was indeed a work by the same master who'd given the world Mona Lisa and is perhaps the final Da Vinci ever to be discovered. To see this late masterpiece by Leonardo, rendered at his zenith, was magical.
Leading up to the Christie's New York auction in mid-November, scant evidence existed to suggest Leonardo's Salvator Mundi would fetch anywhere near the sum it ultimately commanded. After all, Russian billionaire Dmitry Rybolovev, the previous owner of the masterpiece had paid $127 million several years before, following Parisian dealer Yves Bouvier's earlier acquisition of the work for $75 million. Some believed the painting would be purchased for something approximating $100 million. But as the Christie's auction got underway, it quickly became evident bidding would be fierce. Bids emanated from a half dozen would-be buyers, three of them vying by telephone for the treasure. When the gavel finally came down, it had taken a hammer price of $400 million, as well as $50.3 million in fees, to land the masterwork. Salvator Mundi had established a new record as the costliest object of art ever purchased.
Salvator Mundi was sold in 1763 along with other artworks in London's Buckingham House and over the next nearly one-and-a-half centuries, it would largely be forgotten. In 1900, the work resurfaced when British art collector Francis Cook purchased it for his private collection. Over the next 105 years, the canvas – by then assumed painted by one of Leonardo's students – would make news just once. That was in 1958, when it was sold for 45 British pounds by Cook's grandson. Not until 2005 would a dealers' consortium acquire the painting at auction for $10,000. Following a restoration launched in 2007 by Dianne Dwyer Modestini, removing overpainting to reveal the genuine article, events were set in motion culminating in the record sale. Having been purchased by an emissary for Saudi crown prince Mohammed bin Salman, this "Art World Miracle" is slated to go on display soon at the Louvre Abu Dhabi.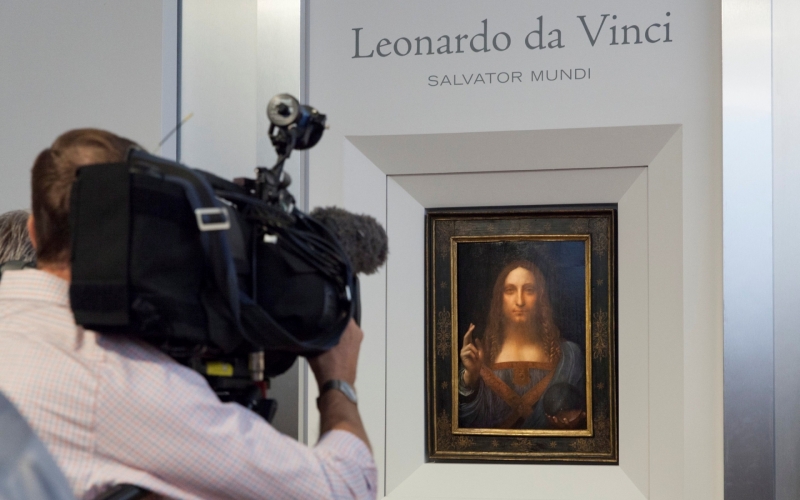 Watch Video: Leonardo Da Vinci's Final Mystery... The Case of Salvator Mundi
Let's Get Social...Share this Article with a Friend