By: Daniel Evon / Photographs Courtesy of Bloomsday Festival
On a day in May 1922, in the city of Paris, Pierre Mérigot de Treigny, a medical student, was instructed by his teacher, a well-known ophthalmologist, Dr. Victor Morax, to tend to a complaint from an unknown patient who called about pain from iritis, an inflammation of the eye. Arriving at the apartment, in a residential hotel on the Rue de l'Université. He saw a man and a woman amidst a scattered scene; clothes and toilet articles were loitered everywhere in the apartment. The mysterious man was James Joyce; he was wrapped in a blanket, wearing dark glasses and hovering over a plate that contained the remains of a chicken and holding a half-empty bottle of wine. Several months before, on February 2nd, this same James Joyce had published what some considered then, and many consider now, as the greatest work of prose fiction ever written in the English Language. Thus began the Odyssey of Ulysses and the legacy of James Joyce.
The epic novel depicts a day in the life of Leopold Bloom, and Stephen Dedalus who took their epic journey through the streets of Dublin, starting at 8 am on June 16 through the early hours of the following day, giving birth to this remarkable festival. Joyce chose the 16th as a gift to his wife-to-be, Nora – to memorialize that fateful day on which she first went out for a romantic stroll with him and changed his life forever. Joyce had great difficulty publishing Ulysses until he met Sylvia Beach (Owner of the Paris-based Shakespeare and Company) who published his book in 1922. Ulysses was banned in the United States until 1933 when Judge John M. Woolsey ruled that the book wasn't obscene and therefore could not be pornographic. The novel was also banned in the United Kingdom until 1936, and contrary to popular belief, Ulysses was never banned in Ireland.
Bloomsday as we now know it owes its origin to two Irish writers Flann O'Brien and John Ryan who organized the first Bloomsday celebration in Dublin, on June 16th, 1954. Taking what was to be a daylong pilgrimage with a group of Dublin's intelligentsia along the Ulysses route. Ryan had rented two old-fashioned horse-drawn cabs, which were used in Ulysses by Mr. Bloom and his friends as they drove to poor Paddy Dignam's funeral. They travel all around the city throughout the day, visiting, in turn, the scenes of the novel, reading parts of Ulysses and drinking a great deal as they went.
One of the great things about the Bloomsday celebration is that it has lots of interactive elements throughout Dublin. Joycean enthusiasts dress in clothing from the Edwardian era while they partake in readings, performances, and re-enactments that take place at many of the establishments referenced in different chapters of Ulysses. The Bloomsday Breakfast is one of the most festive events celebrated, which involves eating the same breakfast as Leopold Bloom on the morning June 16, this includes liver and kidneys alongside the typical ingredients of an Irish fried breakfast.
For those who have never read Ulysses, do yourself a favor and download a copy and hear the glorious words of James Joyce, it's the only way, as reading this book is a significant commitment. Once, twice, thrice I listened to Bloom's wistful sensualism thru Joyce's stream-of-consciousness on my glorious journey. Driving from suburban Detroit to Northern Michigan in the wee hours on a Friday evening after work, I often found myself slowing down in fear that I would arrive before the final chapter was finished. Bloomsday has evolved to become one of the book world's biggest festivals, in more than seventy countries, enthusiasts clean up their copies and celebrate James Joyce and his incomparable Ulysses as one of the best novels, well, ever!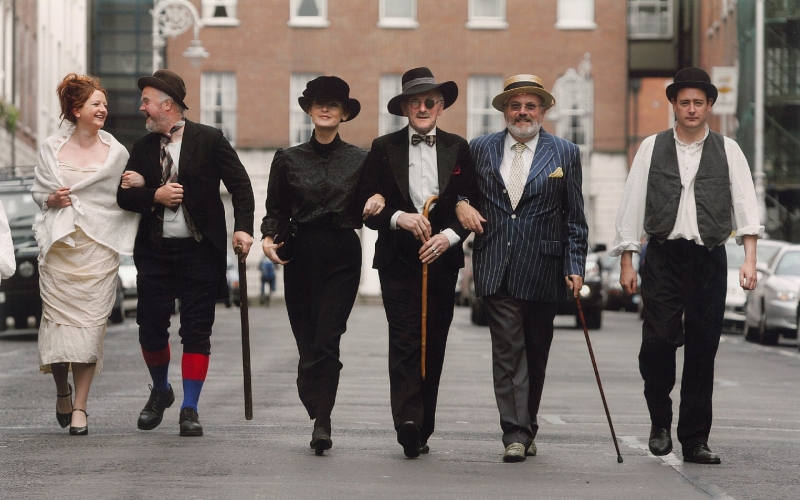 Watch Video: Merry Bloomsday...Raise a Sacramental Guinness to James Joyce
Let's Get Social...Share this Article with a Friend