By: Daniel Evon
On the run. Moving from town to town. Hiding in obscure, roadside inns and on top of the Kings "Most Wanted" list. The year is 1535, and the fugitive is William Tyndale. Having angered Henry VIII, his knights set out to find and arrest heretics upon sight. Tyndale was indeed on the run. But why? For murder? For theft? No. Tyndale was translating the Bible into English for the common people to read and understand. Before Tyndale, the Bible was read only by the clergy and the educated. Tyndale was partly responsible for bringing religion to the masses and for that, he became a fugitive and had to leave England in fear for his life.
With enemies lurking around every corner, Tyndale must rely on every kind soul and friend that he comes across to stay safe. Even with all the danger surrounding him and the King's bounty hunters hot on his trail, Tyndale continues his crucial work. Living as a fugitive is no easy task. Tyndale had the sense that Henry VIII's spies were always just a mere step behind him, tracking his every move. A true supporter of Henry VIII was Sir Thomas More, who showed a ruthless excitement in expunging, burning and ridding the world of all heretical writing.
While evading arrest, Tyndale set sail and sought refuge in Antwerp where he could continue his work on translating the Bible into English. At this time, religion was going through great change and growing pains. The work of Martin Luther and the stirrings of the Reformation were beginning. Tyndale took part in changing religion by adding his now, well-celebrated translation of the Bible from Greek and Hebrew texts. During this period, the Bible had been translated into all primary European languages, but still not English. For taking on this task, Tyndale was branded a heretic and always living with the fear that his day could be numbered.
It is thought that the 54 scholars who penned the King James version of the Bible drew significantly from Tyndale's work. Some consider that 83 percent of the King James version of the New Testament is from Tyndale's translation and that as much as 74 percent of the Old Testament is from Tyndale. After all of his hard work and dedication in making religion accessible to the general public, Tyndale was captured in 1535 and sentenced to death. By order of Henry VIII, Tyndale was strangled and then his body was burned at the stake. Ironically, within four years of his death, English translations of the Bible were printed in England at the behest of the king.
There are many tributes to Tyndale throughout England and Europe, but one of the most beautiful is the stained glass window portrait of William Tyndale that is located in the chapel at Hertford College in Oxford, England. This location was very special for Tyndale as before it was renamed Hertford College in 1874, it was known as Magdalen Hall, where Tyndale began his studies in 1506, matriculating with a Bachelor's of Arts in 1512. The stained glass is based on an oil painting and depicts Tyndale, standing in front of a working printing press, with a Tyndale quote and the opening of Genesis in Hebrew.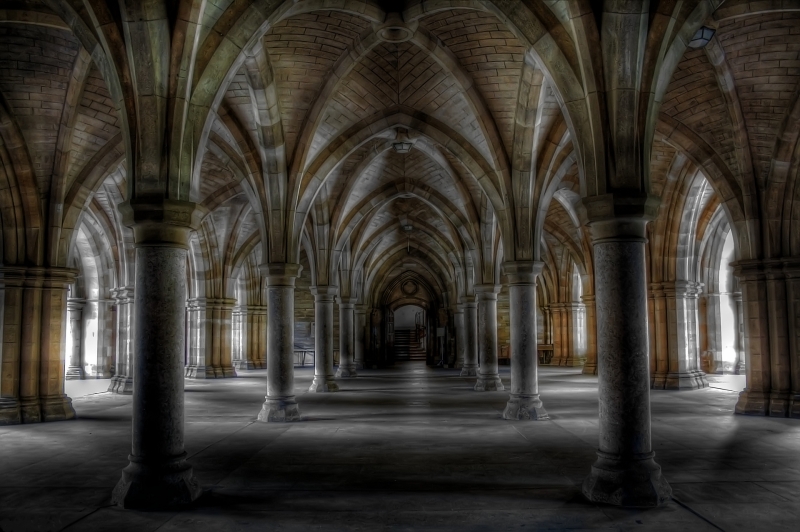 Watch Video: William Tyndale...Pioneering Liberator who gave Grandeur and Grace to the English Bible
Let's Get Social...Share this Article with a Friend