By: Susannah Cord
Alien or terrestrial, occult or naïve, a hoax or the work of genuine genius? The history of the Voynich Manuscript, fraught with mystery and ancient lore, has been thought to be all of these over centuries of failed attempts to crack its vellum shell. William Friedman, co-creator and chief cryptologist of the NSA, felt it an invented language and hence an enigma beyond resolution. Even in the 21st Century, we appear no closer to solving the mystery than we were when it first appeared in the late 1500's. Or are we? Will Artificial Intelligence (AI) be the singular sleuth to solve the mystery that has obsessed many a cryptologist, even to the point of death? If so, it may disappoint the Finnish self-styled prophet Viekko Latvala, who claimed to have succeeded where others had failed thanks to his fluency in 'the language of prophecy,' purportedly also the language of the immovable codex. However, Latvala may yet find vindication in his assertion that 'no one normal human can decode it.'
This prophecy, however, may prove a surprise to any number of relatively normal humans who claim to have discovered the secret to the code, whether in letter containers, in Senzar - an ancient language postulated by a spiritual medium - or by simple old-fashioned language analysis. So while Professor of Computing Science, Greg Kondrak, and graduate student Bradley Hauer, may each be arguably normal, their idea to use Artificial Intelligence on a centuries-old document was perhaps a touch of otherworldly genius in itself. Where many a human mind has taken a tumble down the rabbit hole that embodies the Voynich Manuscript, perhaps AI would not be so easily misdirected. AI would not find a mystery to inspire a lifelong obsession, or care that the book's origins were lost in the mists of time, or that the outright bizarre illustrations resembled little previously created by man.
Artificial Intelligence would not feel the weight of centuries of failed attempts by cryptologists, mathematicians, linguists, occultists and alchemists clouding perspective and gnawing at confidence. Previous suppositions of alien or occult origins or theories concluding it to be a book of recipes, medicinal instructions or botanical explorations would not distract. It would be inconsequential that the Sphinx-like codex, now in safekeeping at the Beinecke Library at Yale, was created in the early 15th Century, but not known to history until records show the Emperor of Germany, Rudolph II, paying 600 gold ducats for its worth to astrologer John Dee in the late 1500's. The Emperor believed it to be the work of English scientist and Franciscan friar, Roger Bacon, while others have suspected Da Vinci. Subsequent testing has ruled out both, Bacon dying too far in advance and Da Vinci being born too late to fit the timeline buried in carbon and ink.
Then again, AI is only as wise as the hands that feed it, and while scientists fed it complex algorithms and some 400 languages, it is still only a hesitant conclusion that the codex is likely written in encoded Hebraic. Clearly, the 170,000 glyphs compiled from an alphabet of some 25 distinct letters will not give up its secrets quite so easily, as others before the current scientists have long since found. Before disappearing for several hundred years, the manuscript traveled the length of Europe, teasing the minds of Bohemian botanist Jacobus Sinapius and alchemist George Baresch in Prague, upon whose death the codex was passed on to Jesuit scholar Athanasius Kircher, whose advice Baresch had previously sought. Hidden from history for the next 250 years, the Voynich manuscript resurfaced in the hands of its namesake, Polish book collector Wilfrid Voynich, who would fall under its spell for the last 18 years of his life.
Reluctant to reveal his point of purchase, it was not until his death that Voynich's wife Ethel disclosed the full story of Voynich discovering the obscure volume in a book sale held by Roman Jesuit priests. How it came to be there is fraught with mystery, but following her death, Ethel's heirs sold the book, which was subsequently donated to the Beinecke Library at Yale where it has been closely guarded until recently. After years of campaigning, Siloé, a small Spanish publisher specializing in exact reproductions of historical books, finally gained access in order to create 898 copies, faithful down to the smallest tear and stain. Good news to cryptology enthusiasts worldwide, who may now own a copy of the Voynich Manuscript for the sum of some $9000, to pore over and ponder at will. Once a singular volume, it is now a one in 899, and history is 888 steps closer to the truth that has become the stuff of ancient lore.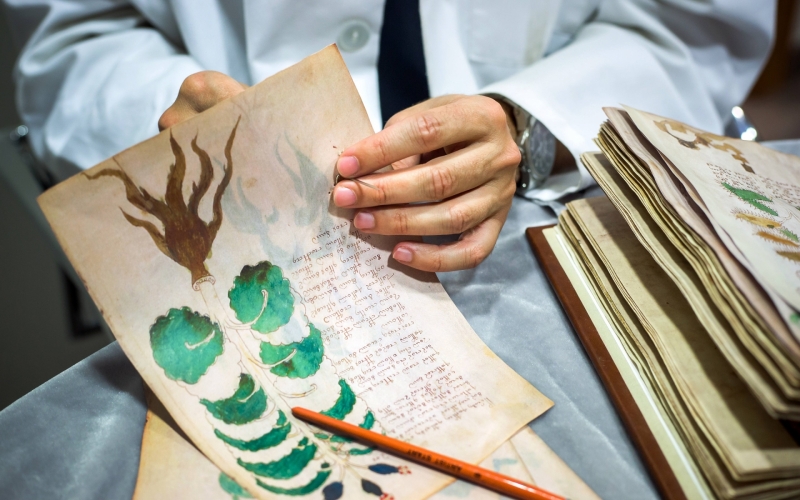 Watch Video: The Voynich Manuscript ... Fraught with Mystery and Ancient Lore
Let's Get Social...Share this Article with a Friend