By: Sarah Louise Klose
Rock icon and legendary guitarist Jimmy Page has hardcore fans in a frenzy, with the news that he's putting the finishing touches on reissues of Led Zeppelin's smash studio albums. To celebrate the heavy metal band's 50th anniversary, Page has been remastering all nine records and weaving in unreleased material worthy of rock nirvana. In a late 2017 interview with the Academy of Achievement, the fire-slinging guitarist said, "There'll be Led Zeppelin product coming out, for sure, that people haven't heard because I'm working on that...there's all manner of surprises coming out." Page last released Led Zeppelin's entire studio catalog in 2014-15, as deluxe reissues plus companion disks with outtakes, demos and a peek at the band's creative process. But Page still has the vaults and the vision, and fans hope he'll unearth previously unheard live performances, and forge rock gold for the 2018 Led Zeppelin reissues. Will the superstar band swing by your city for a heavy metal blast of a reunion tour? Stay tuned, as news is developing.
Before gracing the stage with his screaming guitar chords, Jimmy Page was a working-class kid from West London, then a session musician who played dreamy licks on Petula Clark's "Downtown," added supernatural rhythm to "Goldfinger," and laid down rock riffs for The Stones, The Kinks and The Who. In 1965, after "For Your Love" blasted up the charts and Eric Clapton departed The Yardbirds, Jimmy Page joined the blues-influenced band. The band later split up, but tour obligations remained. A musician friend told Page about Robert Plant, who in turn suggested John Bonham, now considered one of the top three drummers of all time. Page knew John Paul Jones from recording Donovan's "Hurdy Gurdy Man." So the fiery foursome of vocalist Robert Plant, guitarist Jimmy Page, bassist and keyboardist John Paul Jones, and drummer John Bonham was born. Originally called The New Yardbirds, the band was rechristened Led Zeppelin and exploded onto the rock scene in 1968. With Page as lyricist, guitarist, and producer, they recorded Led Zeppelin I, which hit the top ten powered by the heart-wrenching "Dazed and Confused."
By the end of 1969, the band's second album Led Zeppelin II reached number one, driven by the harmonic clash of Page's slinging guitar and Plant's plaintive wailing on "Ramble On" and "Whole Lotta Love." The band released seven more studio albums, all platinum, which included songs like the rip-roaring "Kashmir" and the 8-minute "Stairway to Heaven." The howling passion of Plant, screaming double neck Gibson guitar riffing of Page, crashing drumbeats of Bonham, and reverberating bass lines of Jones formed a blues-rock tornado. Led Zeppelin's explosive live performances led to the group being crowned the top touring band of 1975. After the foursome reached global success, their drummer John Bonham imbibed in a night of heavy drinking and suffered an untimely death in 1980. The band broke up. Two years later, they released Coda, an album of outtakes and early recordings. Plant and Page were so well paired, they went on to record an additional album together, and sang on or produced each other's solo albums.
Led Zeppelin achieved fame, fortune, and fabulous acclaim, selling 300 million albums worldwide, and topping the NME (New Musical Express) reader's poll from 1974-76 for Best Vocal Group. After being inducted into the Rock 'n' Roll Hall of Fame in 1995, Led Zeppelin won a Grammy Lifetime Achievement Award in 2005, and received the Polar Music Prize in 2006. They were recognized at the Kennedy Center Honors (the nation's highest award for culture) in 2012. Here, President Barack Obama speaks with surviving Led Zeppelin members John Paul Jones, Robert Plant, and Jimmy Page. Led Zeppelin has reunited with three original members a handful of times to blast out their songs at Live Aid in 1985; and to jam with drummer Jason Bonham (son of John Bonham) while banging out their hits at the Atlantic Records anniversary show in 1988 and London's O2 Arena in 2007. The band's 1976 concert film was called The Song Remains the Same, and today the Led Zeppelin legacy remains the same: as strong as ever.
Jimmy Page is the Led Zeppelin legacy protector -- and a lyricist, musician, producer, and philanthropist. His music career stretches from age 13 to age 74, and he is number nine on Rolling Stone's list of the 100 greatest guitarists of all time. A seeker of new challenges, Page recorded an instrumental score for Deathwish II after Led Zeppelin split up. He recorded two albums with Robert Plant: 1994's No Quarter, of Led Zeppelin classics as acoustics, which featured musicians from Marrakech and India; and 1998's Walking Into Clarksdale, which won a Grammy for Best Hard Rock album. Never one to rest on his laurels, Page crisscrossed the US on tour with the Black Crowes, playing the band's material plus blues covers. In 2005, the Queen honored Page for his charitable work with Brazilian street children. He appeared in It Might Get Loud in 2007, a documentary about electric guitars. Page is passionate about music, solo projects, collaborations -- but will also always be the fire-slinging riff master, the passion that fuels Led Zeppelin.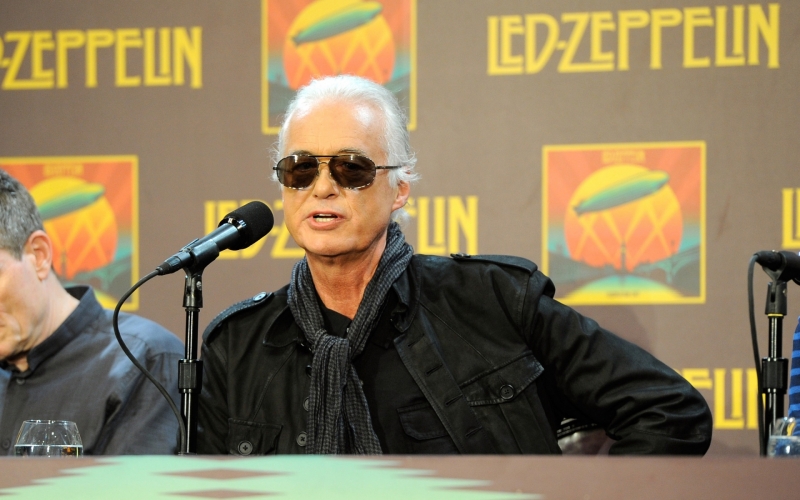 Watch Video: Jimmy Page...Legendary Guitar God Marks the 50th Anniversary of Led Zeppelin
Let's Get Social...Share this Article with a Friend